[From Shark Party Media]
ANNOUNCING KC ARORA'S DEBUT COMEDY ALBUM
DRAW 4
OUT JUNE 12 ON BLONDE MEDICINE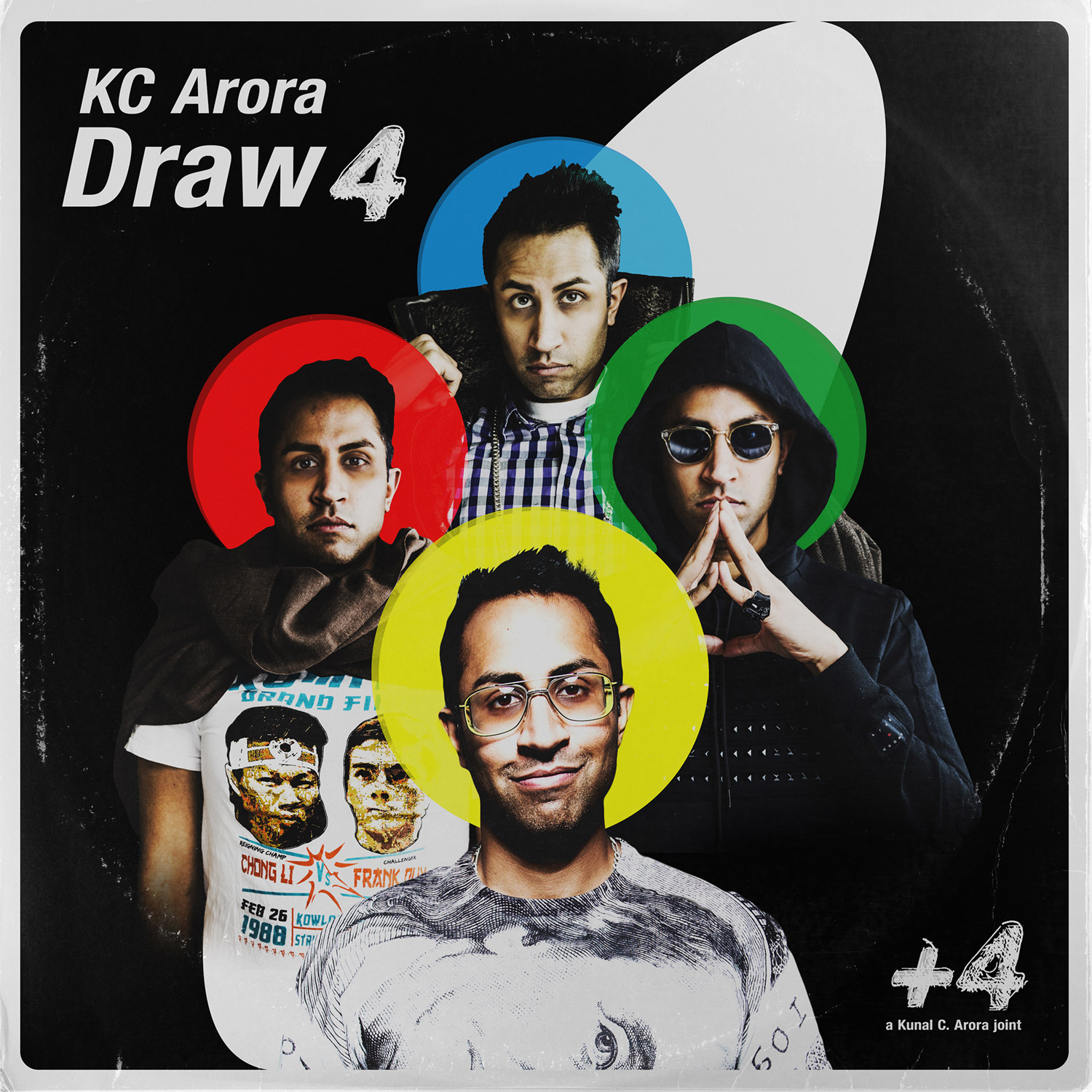 Pre-order: https://music.apple.com/us/album/draw-4/1511605792
KC Arora is an Indian-American Queens-bred comic who was raised in a diverse neighborhood where everybody acted Italian. He's been working for the last decade in clubs all around NYC. Draw 4, out June 12 on Blonde Medicine is KC Arora's execution of the elusive triple entendre — motivated by Jay-Z's lyric in the song "Light Up"; Often, an entertainer's value is determined by their "draw," the amount of people they can get to attend their show. In Arora's career leading up to this album's debut, he reports that he could easily say that he could draw… 4 people:
"Just look at my first attempt to record this album late last year — it was a complete failure. Fortunately, I got another shot and recorded at a club that was confident that I could bring the laughs, while they brought an audience."
To represent the painstaking effort of putting together this record, the "4" on the cover was hand-drawn (that's entendre number 2). The third entendre is the UNO reference. The Draw 4 is the most important card — it has the power to change the course of the game entirely.
"That is what this album is to me; an attempt to shift the course of the game I'm in."
Over the course of the album, KC shares his philosophies on canon like dating, solving terrorism, and how to avoid jury duty. Special moments arise, though, when he splits the audience while making a case for why a certain chain restaurant is the best fast food in America, and telling a great story about the time he had his bike stolen.
Draw 4 will be released on June 12. It is available for pre-order here: https://music.apple.com/us/album/draw-4/1511605792
TRACK LISTING:
01. Draw 2 (Skit #1)
02. Intro
03. Italian + Indian = Guindian
04. Anti-Fertility God
05. Best Fast Food in America?
06. Skip (Skit #2)
07. Getting out of Jury Duty
08. Hitting on Women
09. Sex on a Full Stomach
10. Reverse (Skit #3)
11. Getting Old Together
12. Solving Terrorism
13. High at a Wedding
14. The NYC Bicycle Thief
15. Draw 4 (Skit #4)
16. Dirty Jokes 4 Blue (Bonus Track)