Andrew Karistinos's mustache is amazing. So amazing, in fact, that it became the logo for his restaurant. He owns Jackson's Eatery | Bar — located at 10-37 Jackson Ave. in Long Island City. Apparently, it's a rare occasion if you don't spot Andrew while there.
The dining experience was top-notch. Brunch was fantastic — we had egg dishes, French Toast and pancakes. The pancakes came with a generous portion of blueberry compote and homemade whipped cream — which the bruncher took home and said were just as divine later. The pancakes themselves were nice and fluffy and the compote was so fresh that it tasted like homemade jam. The French Toast was elevated with caramelized bananas and Nutella drizzled on — which was just the right amount. This bruncher said it was just delightful! The omelete was nicely fluffy and the gal who ordered this proclaimed that the potatoes it came with were the best part of her meal. One of our brunchers ordered a dish called Fixin' to Feast — which included two fried eggs, biscuits 'n gravy and yam hash browns. He said it was incredible, but wanted to know more about the meat in his gravy. Our host for our LIC adventure got the Southern Eggs Benny — a reliable and enjoyable dish, and he liked the mini sour cream cajun pancakes instead of the English Muffins. There was plenty of outdoor seating and the menu was accessible by scanning a QR code. We appreciated how the coffee was presented (check out the picture), and the cocktails were delectable. Also, the music gave off a chill vibe, and it was key that it wasn't too loud.
The waitstaff were not only attentive to the human guests, but also to the dogs. Each dog accompanying their owners at the outdoor seating at this establishment was greeted with a big bowl of water.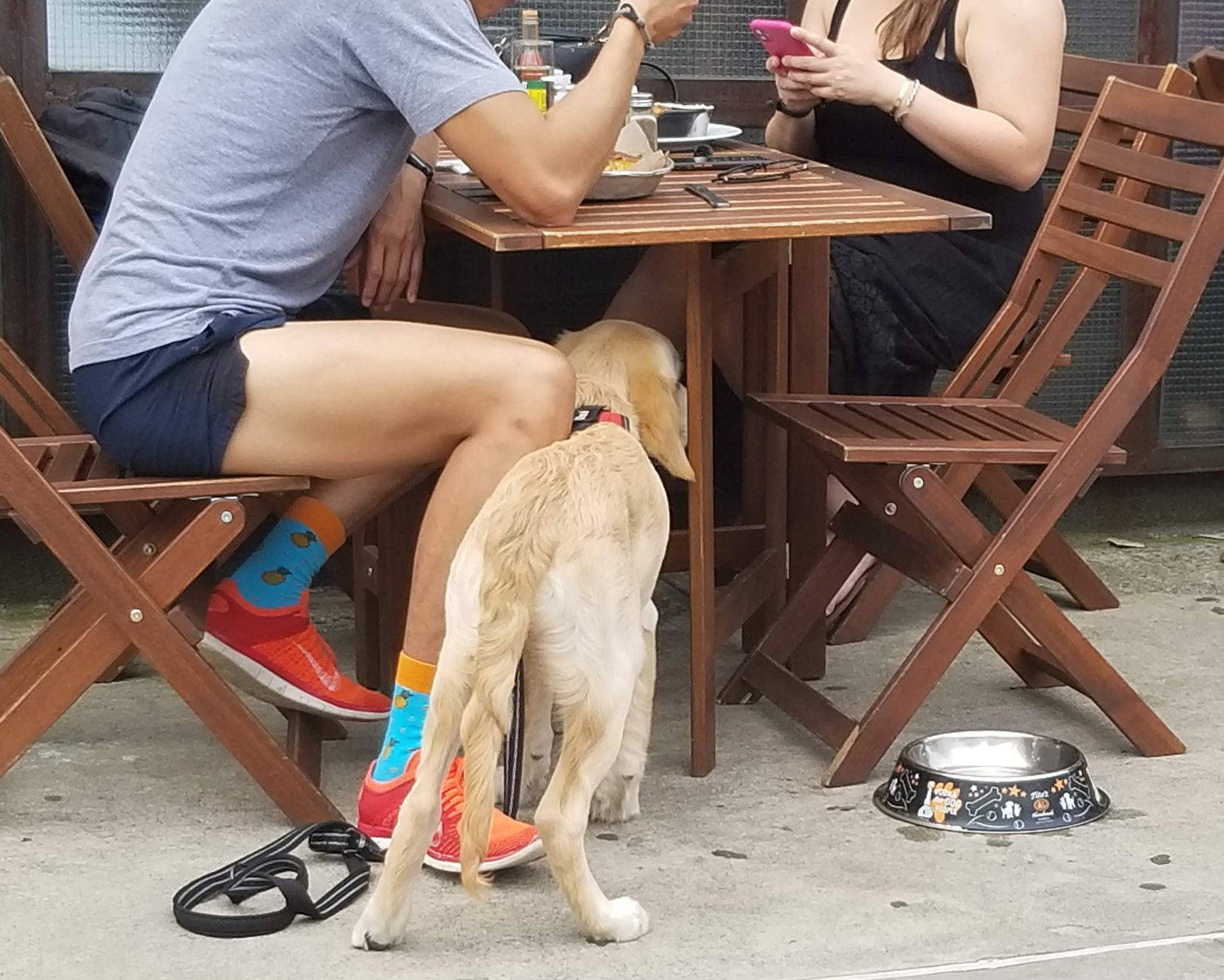 Before our group left, we asked the owner, Andrew, if he'd be in a photo with us. He happily joined. We can't wait to go back and try all their mac & cheese options and the chicken and waffles dish we saw on other tables. Both looked amazing!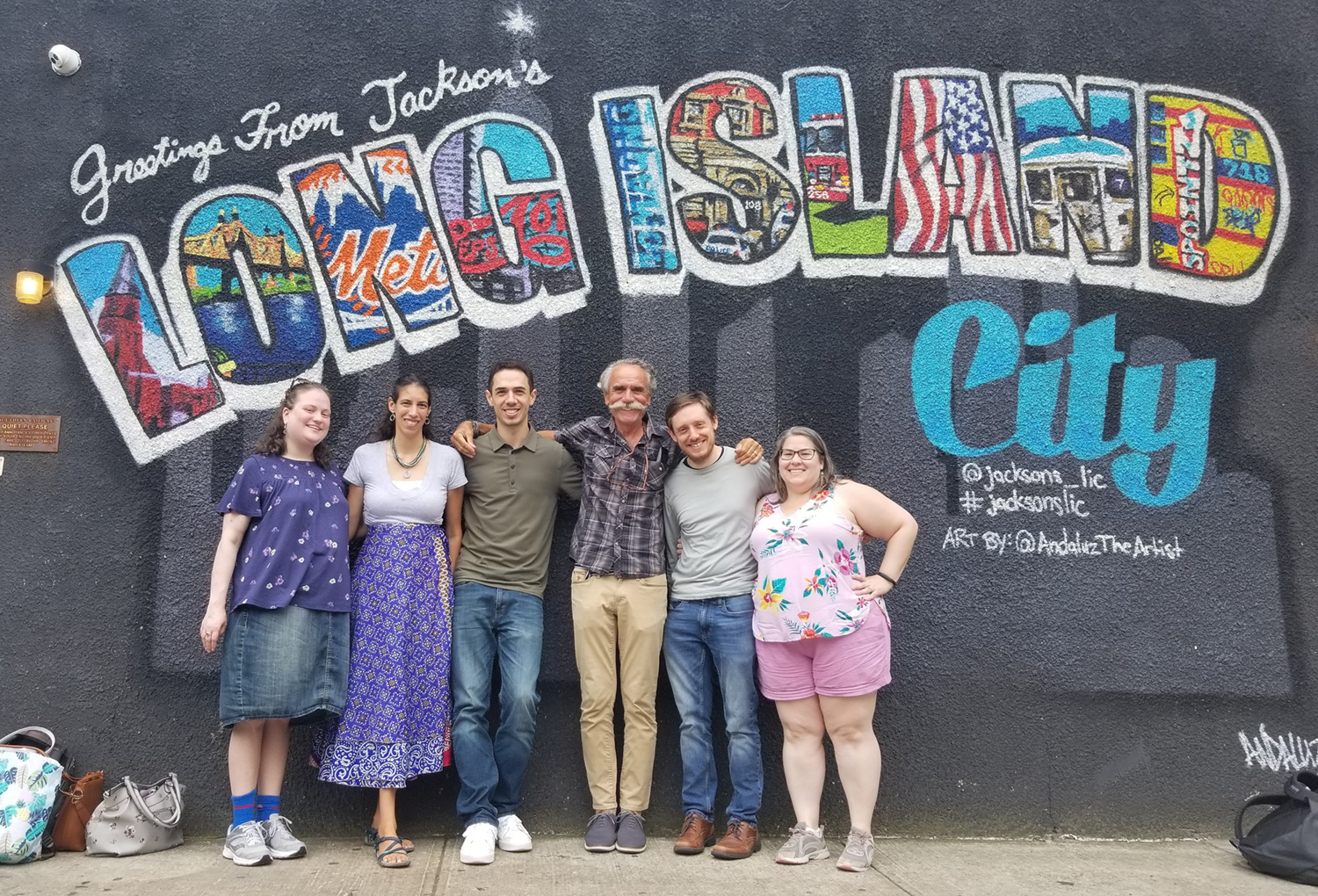 The next item on our LIC agenda was to find a bubble tea place. Our host brought us to Mango Mango (which is just fun to say!) at 47-43 Vernon Blvd. and the ambience was just as bright and bubbly as the beverages! There was a mango-shaped chair swing which we all took turns being photographed in while waiting for our drinks. It was nice and clean inside and the employees were friendly. Most of the brunch crew got bubble tea (Oreo Creme Brulee, Passion Fruit and Signature White Bubble Tea) while others got smoothies (Strawberry and Coconut Mango). The bubble teas tasted very fresh, and there are many other desserts, such as ice cream, cakes, and waffles, so there should be something for everyone wanting a treat.
Our fearless leader continued to show off his new stomping grounds with a walk through Gantry Plaza State Park — where we stopped to snap photos and take breaks to just enjoy the New York City skyline and our drinks.
It was a wonderful adventure to explore LIC a little more. It's a great neighborhood full of color and inspiring messages. (These signs were outside Black Star Bakery & Kitchen at 10-01 50th Ave.)
Text and photos by Emily, Jennie, Rachelle, Jamie and Jonah