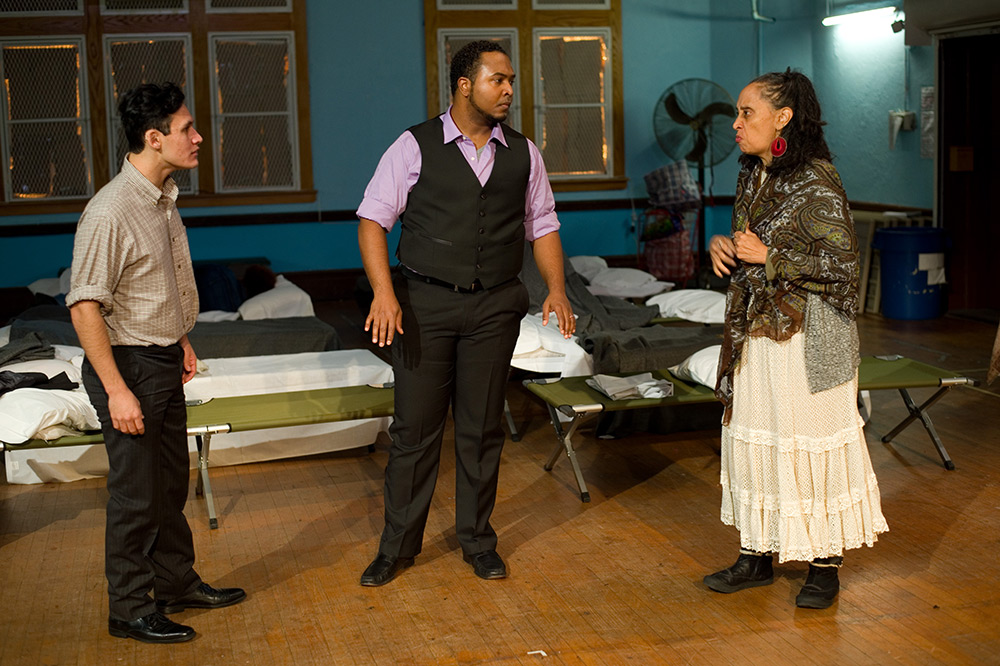 Putting a Human Face on Homelessness. Lisa Huberman on Evensong by Christina Quintana at Astoria Performing Arts Center.
What is poverty supposed to look like? And how do you recover your sense of worth when your life fails to live up to its potential, even if you have followed all of the rules the American Dream assures will lead to success? These are the central questions that animate Christina Quintana's Evensong, the raw yet tender drama of homelessness in New York City, brought to vivid life at The Astoria Performing Arts Center.
In Evensong, we follow Teofilo "Teo" Aguilar (Daniel Prado), a Texas transplant to New York who has found himself checking into a homeless shelter after a string of bad luck. As an educated, clean-cut bank teller, Teo does not think of himself as a typical homeless person. He is definitely, he believes, of a different class and species from, say, the cagey Gladys (Marie Louise Guinier), who obsesses over the hot water kettle and absurdly demands a vegetarian option at their subsidized shelter meal. The tension between Teo's financial circumstances and his self-identity remain a tension throughout the play. He may flirt with the shelter volunteer Bob (Chad Castarphen), and yet his role as a resident of the facility draws an invisible line between their chemistry. At his job for Bank of America, Teo has to scramble to make up excuses to his co-worker Haque (Sai Somboon) for why he can't come out drinking and drags a suitcase everywhere. And yet at the same time, the second-hand suit he wears to his job at Bank of America signals to the homeless man on the subway (Doug Rossi) that he is an asshole for not giving him any money.
All of this could have the potential to descend into melodrama, but Quinana's script and David Mendizábal's direction zero in on the ferocity of the characters' pain while never sentimentalizing it. (more…)