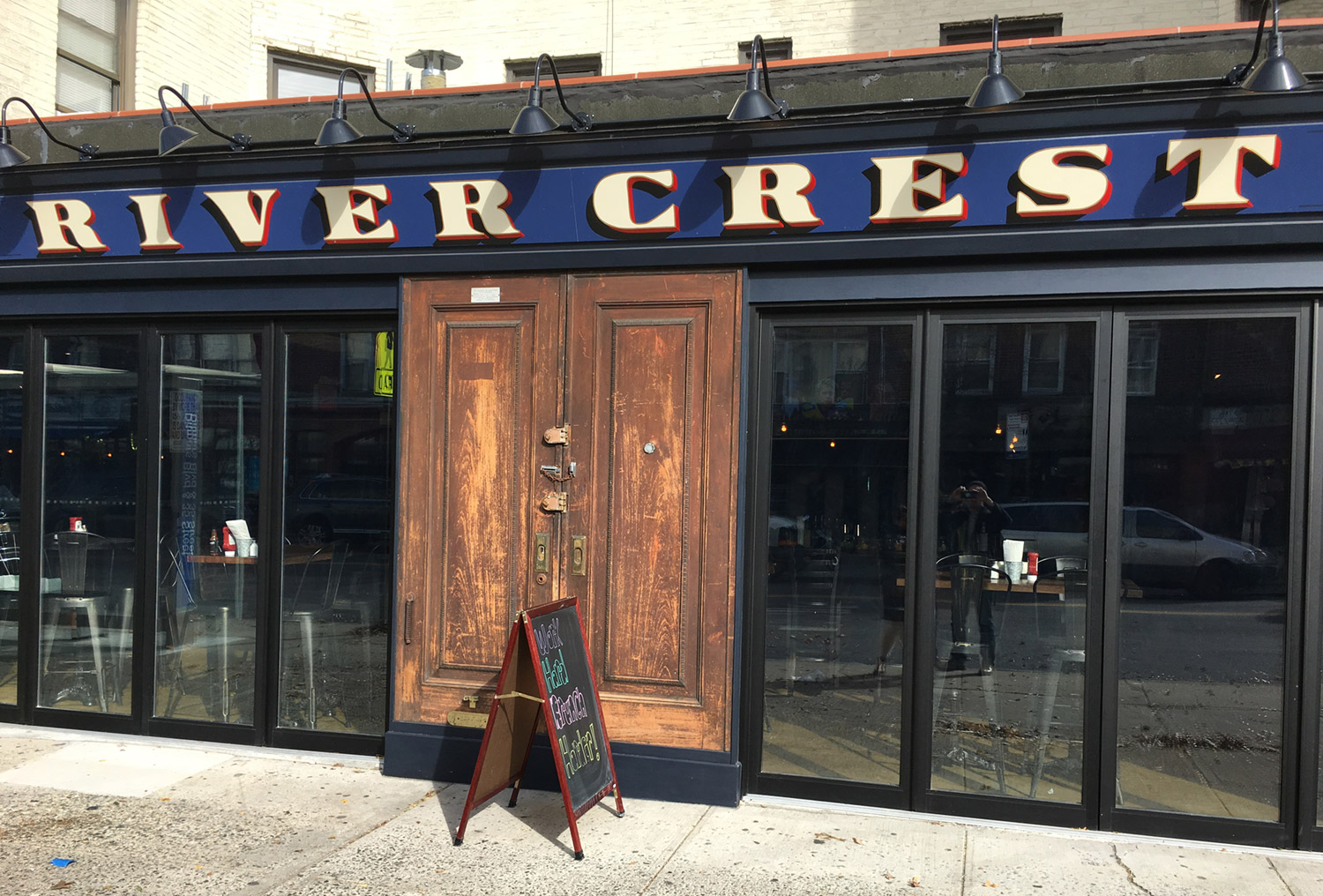 On a delightful Sunday morning in mid-November, Jonah and I went to have brunch at Rivercrest, the new craft beer and cocktail bar at 33-15 Ditmars Blvd in Astoria. The bar had its soft opening on October 3rd, and grand opening on November 14th, after four years of planning and renovating by a pair of Lower East Side bar owners.
Upon our arrival, we were warmly greeted by the manager and co-owner, Ciara. The name Rivercrest comes from a local former sanitarium (that opened in 1896), and the venue pays tribute to it with framed photos of people who were patients there (including actress Drew Barrymore's great-grandfather).
The space takes over the entire bottom floor of the Acropolis apartment complex. We sat in the dining area, which has a number of TVs and very attentive waiter service. There is a bar in the middle area with seating on all four sides, and next to that is another more intimate, vintage inspired bar. A baby shower had been booked for later that day, so we dined with the morning crowd beforehand.
We perused the brunch menu, which is served from 10am–4pm on weekends. It includes delicacies such as Crème Brulee French Toast and Banana Pancakes with vegan chocolate chips. We settled on Eggs Benedict and the Farmer's Wife French Omelette, which has goat cheese, sautéed spinach and wild mushrooms. Instead of an English Muffin, the Eggs Benedict is served on a crispy latke, or potato pancake, giving it a nice crunch. We added a side of toast and crispy potatoes.
The team has come up with cheeky names for dishes, such as "Morning Wood," which is eggs with Applewood smoked bacon and salsa verde on a brioche bun. Prices are reasonable, with most dishes costing between $10 and $12. There is an extensive drink menu and we sampled the mimosa flight—Lavender Berry, Spiced Fig, Jalapeño Pineapple, and Rosemary Lemon. The Jalapeño was a bit spicy, but it was nice to get to try the different varieties, and the other three were excellent. We also had the local cider Ninepin's Hunny Pear, which was crisp and delicious.
Our food was tasty and filling and we couldn't help but wonder how the dinner menu compares. We'll have to return for hand-rolled Flatbreads, Wings, Buffalo Falafel Street Tacos, and an extensive Tater Tot selection (beef bulgogi, anyone?).
The journey to open this bar was a long one. The storefront sat empty for six years, drawing much neighborhood interest. We're happy to welcome them to Astoria!
– Briyah