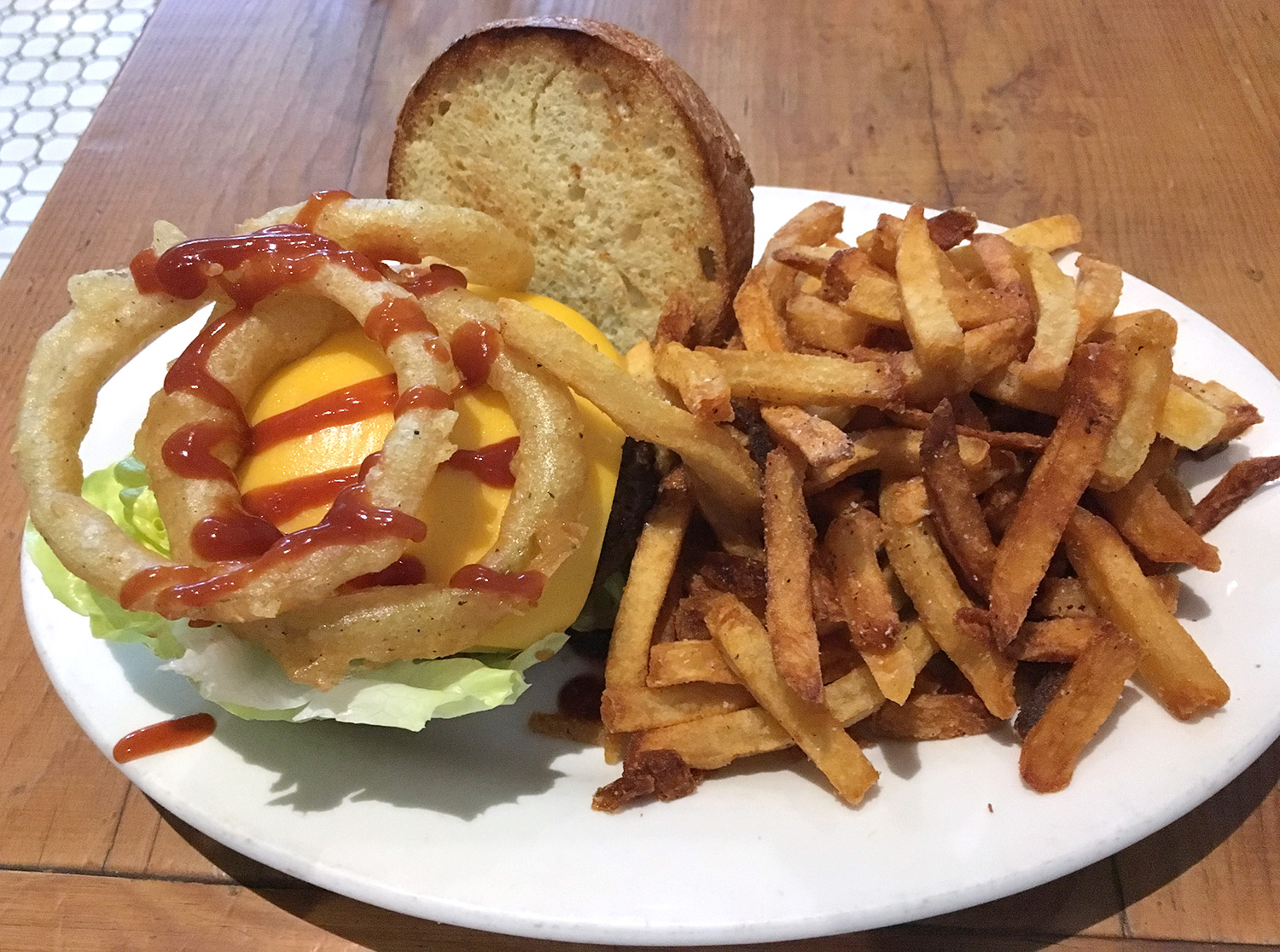 Astoria Provisions is closer to the newly-opened neighborhood ferry stop than it is to any subway station, so that makes it a great excuse to take the ferry either to or from a meal. (It is where Astor Bake Shop used to be.) Once in the neighborhood, people are sure to be drawn into the restaurant's cozy atmosphere on more than an occasional basis — and bring their friends. Astoria Provisions, which serves the crowd-pleasing American fare diners have come to expect from restaurants like these, opened its doors at the end of July and comes from the same team that brought us Gastroteca Astoria, including chef John Parlatore.
A recent Friday night at the restaurant that seats three dozen or so started off quietly, with customers in their 20s and 30s trickling in as the evening passed. Your most difficult choice will come at the top of the evening when selecting a cocktail; the bar's impressive handcrafted drink selection is worth studying, with drinks like Cranberry in the Park (Titos Vodka, Simple Syrup, Lemon Juice, White Cranberry, Champagne) and The High Fashion (Brooklyn Gin, Sweet Vermouth, Marischino, Orange Bitters) making excellent picks. There is also a nice (and inexpensive) beer list.
Starters are hearty, such as salads that could substitute as full meals (Big Steak Salad, $16), soups like the enticing-sounding Roasted Duck Matzo Ball ($9), and Deviled Eggs with a choice of Salmon or Fried Oysters ($10). Friday night's dinner included a chopped salad that had an enthusiastic amount of cheese underneath a dairy-based dressing, though the Artichoke Kale Dip & Hot Chips hit a more welcome cheesy note.
And speaking of cheese, expect your cup or bowl of mac and cheese to resemble more of a rich, smooth cheese soup with floating doughy noodles. Entrées include dishes such as Honey Fried Chicken ($18), Grilled Shrimp Ranchero ($17), and a burger with onion rings in the middle that has a thick, juicy and flavorful patty. Dessert comes down to how you like your ice cream: in a dish or in a milkshake.
Looking to stop by soon? You've got plenty of chances, as Astoria Provisions also serves brunch — and it's the meal to which the restaurant devotes the most of its Instagram feed.
–Laura
Astoria Provisions
12-23 Astoria Blvd
Long Island City, NY 11102
(917) 396-4002
Open daily 8am–10pm