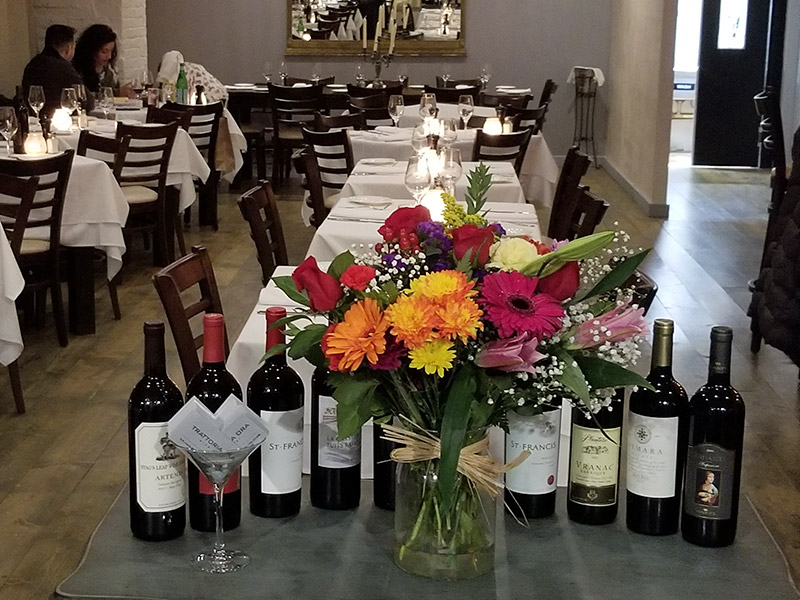 A few weeks ago, I was walking home from the Astoria ferry and noticed a cute little Italian restaurant had popped up at 18th and Astoria Boulevard. My favorite foods are bread, cheese and pasta so I was eager to check out this new place that was less than five minutes from my apartment. So a meat eater, a pescatarian and a vegetarian dined at Trattoria Ora on Thursday, March 14.
The cute brick walled rustic restaurant, which opened in early February, made us feel at home with a fantastic house staff and fabulous food.
We were greeted by the owners who quickly brought us a pitcher of water, warm bread and plate of scrumptious cheese and olives. We opted to start with an appetizer of caprese. The cheese was creamy and firm and paired nicely with the tomato and second basket of bread. The vegetarian considers herself a "carb-itarian" so she was a happy camper. Since Trattoria Ora dubs itself a wine bar we each had a white wine which paired nicely with our meals.
For entrées we ordered chicken, fish and pasta. The menu had a few vegetarian options and the staff was very accommodating. Everything had a beautiful presentation. The vegetarian (that's me) ordered penne a la vodka. Our waitress provided plenty of Parmesan cheese to top off the dish. The pasta was fresh and cooked al dente. The sauce was a light red vodka sauce with chunks of tomatoes.
After wavering between the bass and the sole, the pescatarian ordered the striped bass filet which was cooked in a delicious tomato-based sauce with olives and served over spinach. A side of sautéed brussel sprouts rounded out this very tasty dish.
Our resident eater of all foods had the chicken special with portobello mushrooms in a champagne and white cream sauce. The chicken was prepared to perfection, not too dry and not undercooked either. The sauce had a nice flavor, and did not feel too heavy, which is saying something for a cream sauce. The portobello mushrooms were a nice touch to complement the chicken.
A night out at an Italian restaurant isn't complete until you eat a dessert while already happily full. Our trio agreed on sharing the tiramisu. We easily agreed not only was this best tiramisu in Astoria, but the best in NYC. We were also gifted a slice of ricotta cheesecake that was light and fluffy. If you like ending your meal with a nice light choice the cheesecake is the way to go. If you prefer a super-sweet and decadent dessert – the tiramisu is a slice of heaven.
This seems like a nice place to take a date or have a nice family meal at the large table in the back. I look forward to coming back for future dates, glasses of wine and tiramisu!
—Emily (vegetarian), Ally (pescatarian) and Jonah (eater of all foods)
Trattoria Ora
18-01 Astoria Blvd.
Long Island City, NY 11102
718-433-9680
Photos by Emily