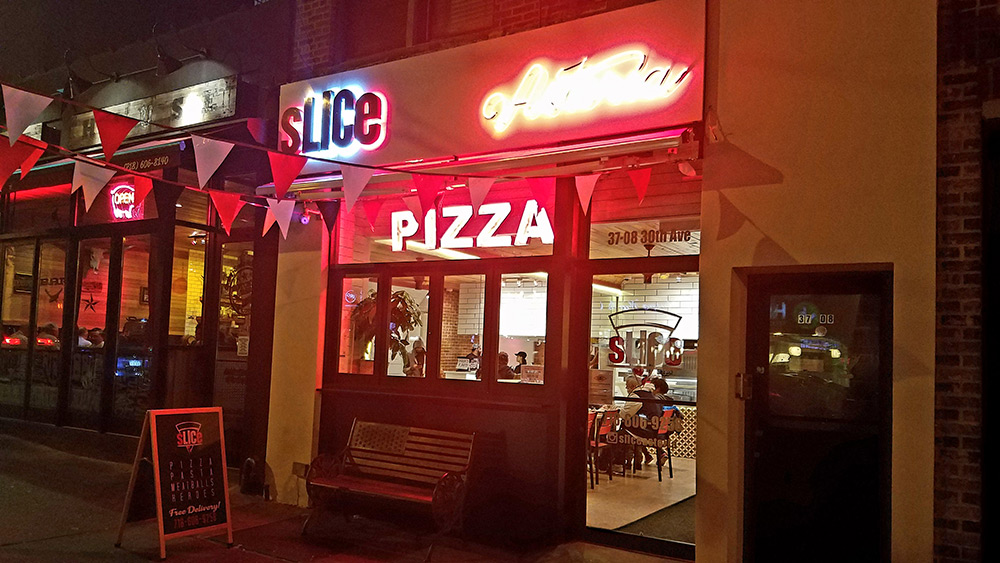 There's a new pizza place in Astoria that definitely deserves your attention. The Long Island City pizza joint sLICe has opened up a second location on 30th Avenue in Astoria, and it is a much welcomed addition to the already great pizza scene. The inside of sLICe is very warm and welcoming. Its bright white interior meshes well with its red chairs and signs. Almost a mozzarella and sauce combination of color. New hip-hop was playing quietly from the speakers, and gave the interior a fun and loose vibe. There are five two-person tables to sit down and devour whichever pizza option you choose. And there are quite a number of options. I was given the opportunity to try five different slices, and it was very hard to choose a favorite.
I first bit into the classic Margherita slice. The cheese and sauce were perfectly portioned, and the fresh basil added the always delicious kick. The crust they use also has a very nice garlic taste to it. Usually when I get a Margherita slice somewhere, it hardly has any garlic flavor whatsoever. This was a nice change. I loved it.
Next up, I tried a classic NY slice. Again, the cheese and sauce ratio was great, and it was nicely crunchy on the bottom, yet still perfectly foldable. The perfect slice on the go.
I then tried the white ricotta slice. It wasn't flavored with too much garlic, so I actually tasted the ricotta and cheese a lot more than some other white pies I've had. Definitely a good choice if you're tired of the ol' tomato sauce pizza.
The Sicilian slice was a mouthful. The crust is pre-baked, then topped with sauce and cheese, and then cooked again to make it even crispier. It was a little too doughy for me, but still absolutely delicious. It was nice that I could see the top of the dough was brown, so you could definitely tell that it had really been baked for the first time without any sauce or cheese on it.
My favorite slice was probably the grandma slice. It has the plum cherry tomato sauce that comes on the Margherita, but shape-wise, it's like a smaller, thinner Sicilian slice. It was the perfect combination of the sauce, cheese, and dough. It had a perfectly crisp bottom, and a buttery crust that I absolutely loved.
The other options at sLICe include a great looking pepperoni slice, and even mini-calzones. They also have a large menu of subs and entrées. I look forward to going back to sLICe and trying a little bit of everything. Although it'll be hard not to get at least one grandma slice every time I go back.
sLICe is located at 37-08 30th Ave, 718-606-9258