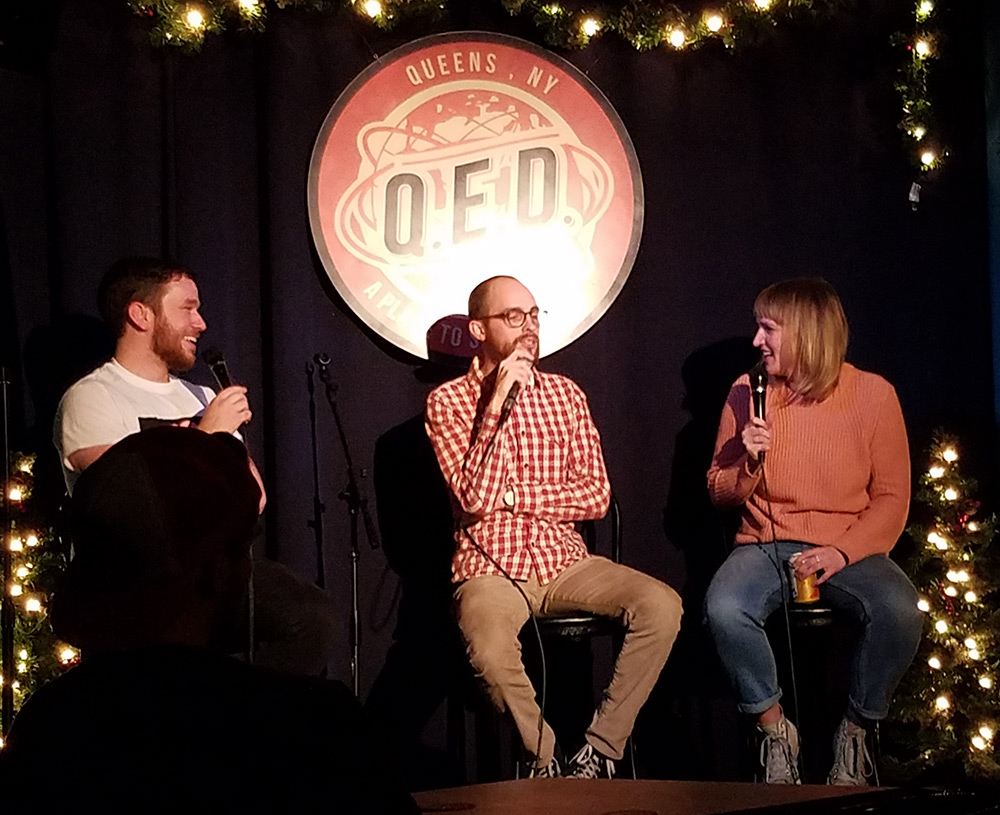 On a rainy Tuesday, I went to check out Repeater: A Little Show About Big Songs at QED here in Astoria. I have seen a few shows at QED before, but this one was new to me. Comedians Evan Barden and Pat Cartelli host a  monthly discussion about a single song that their monthly guest loves and cherishes. They go on to discuss the history behind the guests' love of the song, as well as their personal history. The original guest comedian Jo Firestone had to cancel at the last minute, but the replacement guest Courtney Maginnis confidently stepped in.
The show began with the three comedians talking about a band that they've been obsessed with lately. There was some funny banter about Hamilton and Solange Knowles' new album, to which Courtney is a huge fan. Her personal song turned out to be "(Sittin' On) The Dock of the Bay" by Otis Redding. Her quirky story about her family gatherings at a beach house was relatable to anyone who has one side of the family that might party a bit too hard. The song was played for the audience just in case anyone was unfamiliar with the classic tune. Whistling was involved!
Courtney, Evan and Pat then talked about their varying experiences as comedians, and we got to learn a little more about them. The whole show is recorded as a live podcast, so the audience is treated to a conversational show. As self deprecating as the comedians were, you could tell they definitely have a passion for music and their craft. It was interesting to learn about these people, as well as their families and even personal struggles. Their stories made me laugh quite a bit, as well as some of the awkward silences. It's all part of the show, and I have to give the hosts props for dealing with last-minute guest changes.
After the funny conversation, the audience was treated to singer/songwriter Anielle Reid. She came on stage with a banjo, and played a few great soulful songs. Her banjo picking was flat-out great, and her voice is phenomenal. She deserved all the applaud she received. At the end of the show, a few prizes were given out, including an LP and some Otis Redding stickers. Overall this was a fairly entertaining show, and I have to give thanks to the hosts being so positive on a fairly rainy night, and with a less than expected turnout. I would definitely recommend it if you're a music fan.
You can look up future shows of Repeater at qedastoria.com, and on their twitter account twitter.com/repeatershow