Grasping for a Glimmer of Sunshine: Lisa Huberman on Raisin at Astoria Performing Arts Center
There's something that is so comforting about jazz music on a rainy evening—the melancholy mixed with seductive combination of nostalgia and longing. Astoria Performing Arts Center's deeply felt, soulful revival of Raisin left me warmed and transported on the misty Friday evening I saw it.
A 1974 musical adaptation of Lorraine Hansberry's 1959 classic play A Raisin in the Sun, Raisin brings us into the world of the Youngers, a working-class black family on Chicago's South Side looking to expand their prospects and claim some of the American Dream for themselves. Opportunity comes in the form of an impending check from the late patriarch's life insurance policy, with each member of the family having different ideas on how to invest it. Walter wants to invest his father's money to invest in a liquor store, which will allow him to quit driving a taxi for rich white men and give his young son something to look up to. His mother Lena, on the other hand, has her sights set on a new house in a better neighborhood, while also putting some money aside for her daughter Beneatha's medical school. Beneatha's concerns, on the other hand, are less on the material and more on the cultural, finding herself drawn to the world of her Nigerian beau Joseph Asagi.
To be honest I am often dubious of musical adaptations of small, intimate plays or films. Sometimes a big score will overwhelm and drown out the stillness and subtlety of such a story. Happily, APAC's production of Raisin under Dev Bondarin's direction maintains the delicacy—expanding the emotional reach of the world just enough.
The songs by Judd Woldin and Robert Brittain, which range from jazz to Motown to African tribal music, are rarely used to convey exposition, but rather to reveal human moments of the main characters they can't always share with others in their family. In a story of people with difficult lives, the jazz-inflected score injects a measure of joy and transcendence. 
This is beautifully seen in Ebony Marshall-Oliver's opening song as matriarch Lena Younger, "A Whole Lotta Sunlight." In this intoxicating, jazzy number, Lena confides in her beloved potted plant her hopes for a new start in the house she intends to buy. Marshall-Oliver has a slight, slender frame, but commands the stage like a goddess the moment she enters. With Shakespearean precision and a silky voice she imbues love and meaning into every object she touches, whether it is a piece of furniture or her "tiny sprout" of a potted plant. Warren Nolan Jr. as Walter Lee gets the lion's share of musical numbers, and through numbers like "Runnin' to Meet the Man," "Man Say" and "Booze," we see the emotional strain that his work as a taxi driver takes on him and the tantalizing promise his new business venture holds. Nolan is boisterous and exuberant, a brash dreamer, who is endearing even if his dreams are foolhardy. As Walter's wife Ruth, Brandi Nox exudes quiet, determined grace as an anchor in a sea of strong-headed dreamers, but she gets to reveal a sense of playfulness in "Whose Little Angry Man," in which she attempts to coax her young son out of a spell of sullenness. Readers of Hansberry's play will note the compression of Beneatha's storyline here—gone is her practical, assimilated beau George, and instead the focus is on her budding romance with Asagi. Still, Sarita Amani Nash shines as the medical student newly "woke" to cultural influences outside of her family, whether it is shedding feminine tradition by wearing pants or rejecting God. In the duet "Alaiyo," Asagi paints her a stirring picture of his African homeland underscored by rhythmic drum music. As Asagi, Cartreze Tucker oozes charisma as a man keenly aware and amused by the effect his exoticism has on those around him. Even 10-year-old Travis gets a number, and Chinua B. Payne is plucky and winning in "Sidewalk Tree," in which he privately muses about how his life may be different in a new neighborhood.
Part of the fun of seeing a show at APAC is noticing how the production utilizes the space. Lawrence E. Moten III's set is a traditional proscenium, with a triangle-shaped thrust that propels the action outward toward the crowd. At other moments, Bondarin sends the story into the audience, enveloping them in movement and sound in sequences like Walter's "African Dance" and "He Come Down This Morning." Here Tamrin Goldberg's choreography is able to draw a vigorous, pulsating line between black America's ancestral roots and the ecstasy of the church. Credit must also be paid to the energetic ensemble, who appear in many forms convey the neighborhood's beauty but also its menace, costumed in rich period detail by Jennipher Pacheco. I am not sure I would want to see the show in a larger space—its rhythms might not feel quite as visceral.
The one drawback to a musical space like this is that the smallness means that body mics aren't necessary, but occasionally some of the singing was a bit faint and muffled.
It's always astonishing to revisit a story and find it wrestling with the questions still facing us today. Watching Lena and Ruth puzzle over Beneatha's interest in African drumming classes and atheism was a reminder millenials are not the first generation to try on different identities and beliefs. On a more chilling level, Raisin bitterly highlights the menace of respectability politics and bigoted dog-whistling that impact contemporary intercultural debate. When a man from the all-white neighborhood committee comes to dissuade the Youngers from moving into their new house, Walter, Ruth, and Beneatha point out this is essentially the Ku Klux Klan wearing sheep's clothing in the cheeky, Kander and Ebb-esque number, "Not Anymore." When the musical first appeared in the 1970s, Richard Nixon's "Southern Strategy" of avoiding outright racist statements in favor of pleas for "states' rights" and "law and order" was just beginning to be felt. No doubt contemporary audiences will find similar resonance in the Youngers' struggle to overcome systematic and internalized oppression.
Whatever resonance you find, APAC's production of Raisin is sure to be a welcome balm to sooth, comfort, and uplift.
Raisin
Book by Robert Nemiroff and Charlotte Zaltzberh
Music by Judd Woldin
Lyrics by Robert Brittan
Based on Lorraine Hansberry's A Raisin In The Sun
Director: Dev Bondarin
Musical Director: Darius Smith
Featuring:
Maia Bedford, Aaron Casey, Shabazz Green, Chris Gwynn, Marcie Henderson, Greg Horton, Brandi Knox, Billy Lowrimore, Ebony Marshall-Oliver, Sarita Amani Nash, Warren Nolan, Jr., Chinua B. Payne, Tony Perry, Joi Danielle Price, Vanessa Robinson, Alicia Thomas, Cartreze Tucker
Choreographer: Tamrin Goldberg
Set Design: Lawrence E. Moten III
Costume Design: Jennipher Pacheco
Lighting Design: Adam Honore
Sound Design: Emma Wilk
Press Agent: Kimberly Wilson Marshall/Wilson Marshal PR/Events
Production Manasher: Annie Jacobs
Production Stage Manager: Jessica Pecharsky
Assistant Stage Manager: Vanna Richardson
Casting Director: Michael Cassara, CSA
Astoria Performing Arts Center
30-44 Crescent St, Astoria, NY 11102
May 4-27
Thursdays-Saturdays at 8PM
Saturday Matinee at 2PM
Adult Tickets: $18
Student/Senior Tickets: $12
To Reserve Tickets: http://www.apacny.org/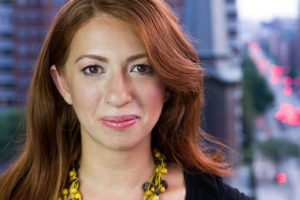 Lisa Huberman is a playwright and storyteller based in Astoria, whose work has been produced throughout New York City and New Jersey.  Her full-length play, Sex and Charitable Giving was produced in The Brick Theatre's inaugural F*ck Fest and was recently recorded for Elephant Run District's hERD Podcast. Her solo show, The Worst Zionist in the Room, was recently featured as part of Dixon Place's In the Lounge Series. Lisa is part of the Queens-based artist collective Mission to (dit)Mars and a member of their playwriting group, The Propulsion Lab.