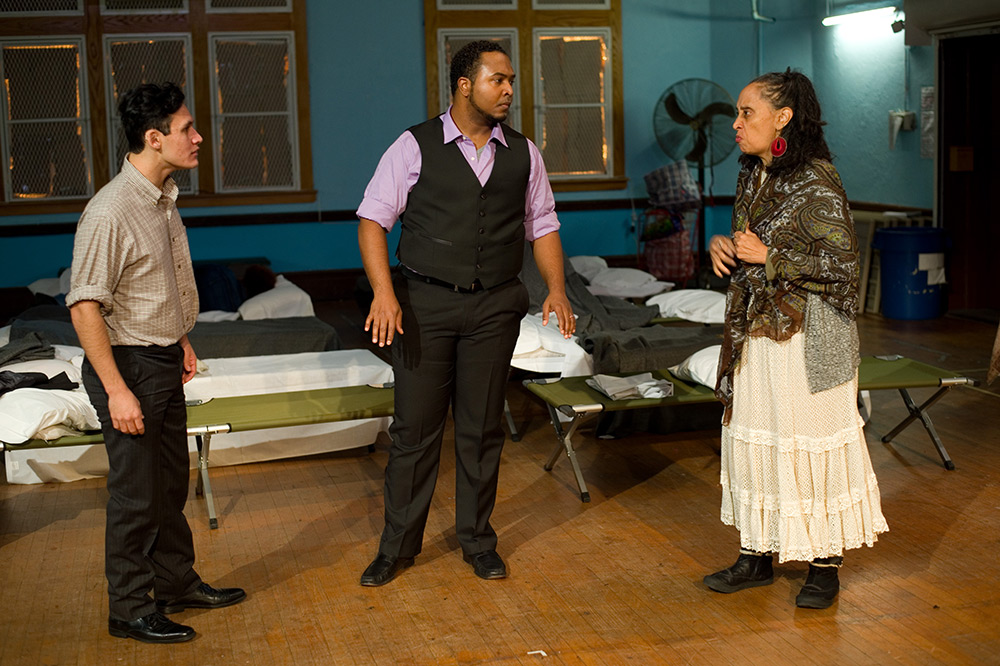 Putting a Human Face on Homelessness. Lisa Huberman on Evensong by Christina Quintana at Astoria Performing Arts Center.
What is poverty supposed to look like? And how do you recover your sense of worth when your life fails to live up to its potential, even if you have followed all of the rules the American Dream assures will lead to success? These are the central questions that animate Christina Quintana's Evensong, the raw yet tender drama of homelessness in New York City, brought to vivid life at The Astoria Performing Arts Center.
In Evensong, we follow Teofilo "Teo" Aguilar (Daniel Prado), a Texas transplant to New York who has found himself checking into a homeless shelter after a string of bad luck. As an educated, clean-cut bank teller, Teo does not think of himself as a typical homeless person. He is definitely, he believes, of a different class and species from, say, the cagey Gladys (Marie Louise Guinier), who obsesses over the hot water kettle and absurdly demands a vegetarian option at their subsidized shelter meal. The tension between Teo's financial circumstances and his self-identity remain a tension throughout the play. He may flirt with the shelter volunteer Bob (Chad Castarphen), and yet his role as a resident of the facility draws an invisible line between their chemistry. At his job for Bank of America, Teo has to scramble to make up excuses to his co-worker Haque (Sai Somboon) for why he can't come out drinking and drags a suitcase everywhere. And yet at the same time, the second-hand suit he wears to his job at Bank of America signals to the homeless man on the subway (Doug Rossi) that he is an asshole for not giving him any money.
All of this could have the potential to descend into melodrama, but Quinana's script and David Mendizábal's direction zero in on the ferocity of the characters' pain while never sentimentalizing it.
As Teo, Prado conveys a boyish charm and humor that endears him to those he encounters, as well his prickly ego that pushes him toward self-destruction rather than accept support from Arlene Chico-Lugo's Rosa. Chico-Lugo (who also doubles as Teo's Abuela) is a mix of ferocious hunger for connection and maternal grace as she and her boyfriend Ricardo (Francis Mateo) cope with a recent tragedy. Castarphen's Bob is the picture of professionalism in his tailored suit, and yet the precariousness of his financial position and the lucky breaks he has been given are never far from his mind. Though Guinier's Gladys at first serves as comic relief, she gradually reveals a fierce dignity and warm vulnerability. Doing triple duty in multiple roles, Somboon is equally winning in the many roles he plays in Teo's life, from a douche-bro work friend, a preening body building Grindr hookup, to his flamboyantly gay cousin from San Antonio sporting a magenta tiara and a Selena T-shirt (one of the many eloquent costume moments by Dina El-Aziz).
I've seen several productions here at APAC, and no production has made as eloquent use of the space as Evensong. APAC, after all, shares its space with a house of worship, which is the perfect home for a play set in a church shelter. Rather than manufacture an artificial set with a traditional proscenium, Christopher and Justin Swader wisely take advantage of the building's architecture with their set design, leaving the space exposed. The hastily paper-covered back windows reveal cracks which, in lighting designer Evan Roby's nimble hands, give way to environmental morning and evening light. The Swaders pay loving attention to detail here—from the rows of army-style cots, to plastic covered buffet table filled with leftovers in foil trays, to the volunteer desk next to a bulletin board covered in inspirational messages and announcements. For other scenes that take place outside the shelter, the actors pull set and prop elements that one would normally find among mismatched donated items at such a facility. A rolling coat rack becomes a bank teller window, orange and yellow school chairs transform into MTA seats.
The holy setting is further realized by Jacob Subotnick's soundscape and Julián Mesri's original music, which keep the production moving and allow for moments that are beautifully transporting.
The stunning diversity showcased in this cast and script should be noted, which has become a hallmark of APAC's original productions under Artistic Director Dev Bondarin's leadership. Evensong, like so many other recent offerings, offers opportunities to showcase the stories of people of color, members of the LGBT community, and other minority groups in ways that never descend into stereotypes. The largely black and Latino cast of Evensong features characters that range from gay to straight, professional to poverty stricken. I always emerge from an APAC production with a more expansive, textured view of the world than I had when I entered.
Evensong
By Christina Quintana
Featuring: Daniel Prado, Chad Carstarphen, Marie Louise Guinier, Arlene Chico-Lugo, Francis Mateo, Doug Rossi, and Sai Somboon
Directed by David Mendizábal
Set and Props Design; Christopher and Justin Swader
Costume Design: Dina El-Aziz
Lighting Design: Evan Roby
Sound Design: Jacob Subotnick
Original Music: Julián Mesri
Nov. 3-19
November 18: 8 PM
November 19: 2 PM and 6 PM.
Location:
30-44 Crescent St., Astoria, NY 11102
Transportation: Queens-Bound N or W Train to either Broadway or 30th Ave.
For tickets: www.apacny.org. $18 Adults, $12 Students and Seniors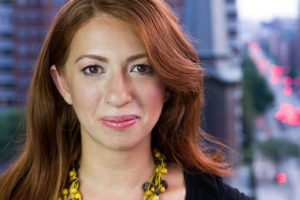 Lisa Huberman is a playwright and storyteller based in Astoria, whose work has been produced throughout New York City and New Jersey.  Her full-length play, Sex and Charitable Giving was produced in The Brick Theatre's inaugural F*ck Fest and was recently recorded for Elephant Run District's hERD Podcast. Her solo show, The Worst Zionist in the Room, was recently featured as part of Dixon Place's In the Lounge Series. Lisa is part of the Queens-based artist collective Mission to (dit)Mars and a member of their playwriting group, The Propulsion Lab.