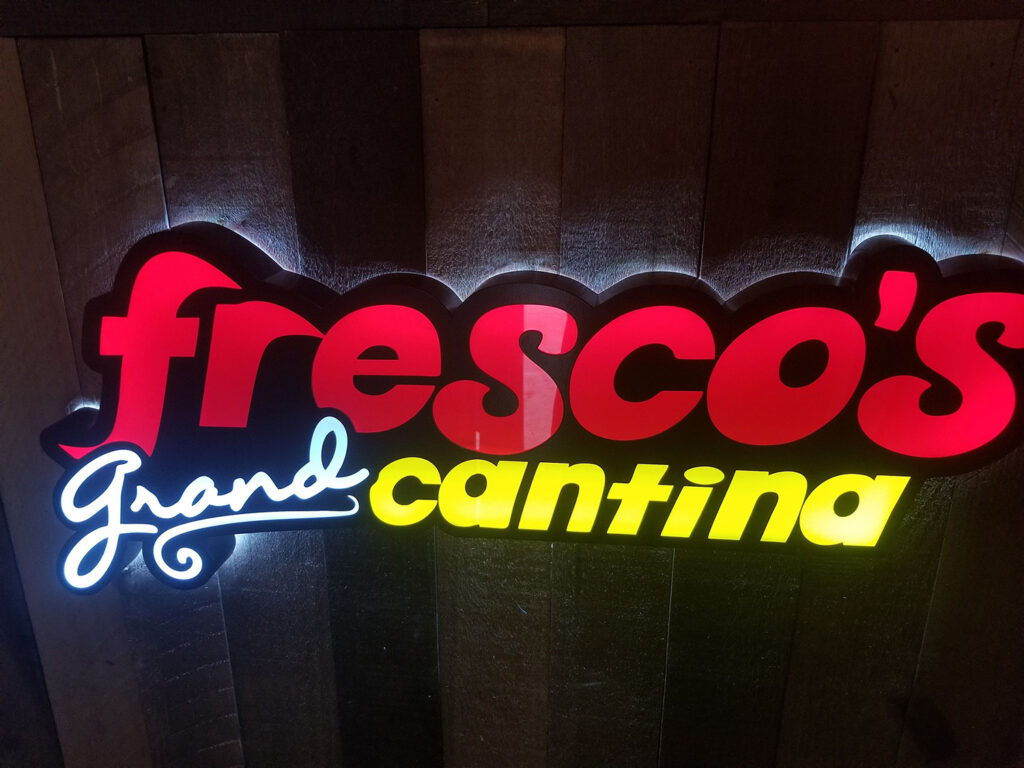 Fresco's Grand Cantina is a great place for a night out with friends or an adorable date night spot. The ambiance was spectacular and very Instagram-able. 
We got a sneak peak at the upstairs space which they plan to rent out for private parties. It's a super cute space with funky lighting on the staircase.
We ate in Le Jardin — the garden area. A section of the ceiling had been removed to make it open air seating and the rest was curved and clear — it felt like we were eating in a greenhouse. Plus, there was a large screen that was playing The Nanny. We love sitcoms about gals from Queens!
We started off with some frozen drinks: The Mango Margarita was light and delicious, the Strawberry Margarita had a nice balance of booze to sweetness and the Mojito was delightfully refreshing. 
The waitstaff were friendly and attentive but also gave us time to enjoy our food and chat. The plain nachos had a fun blend of cheeses and came with a side of guacamole. The chicken fajitas were excellent and super flavorful. They added a sweet plantain which was great. The steak burrito's tastiness was enhanced by the extra sauces they provided. 
Some of us feel that a meal at a Mexican restaurant just isn't complete without a churro or two. And the mini-churros delivered. Not only was the presentation beautiful but they tasted divine. We can't wait to come back and introduce this place to more people!
28-50 31st St, Astoria, NY 11102
Instagram: @Frescosgrandcantina
Photos by Emily