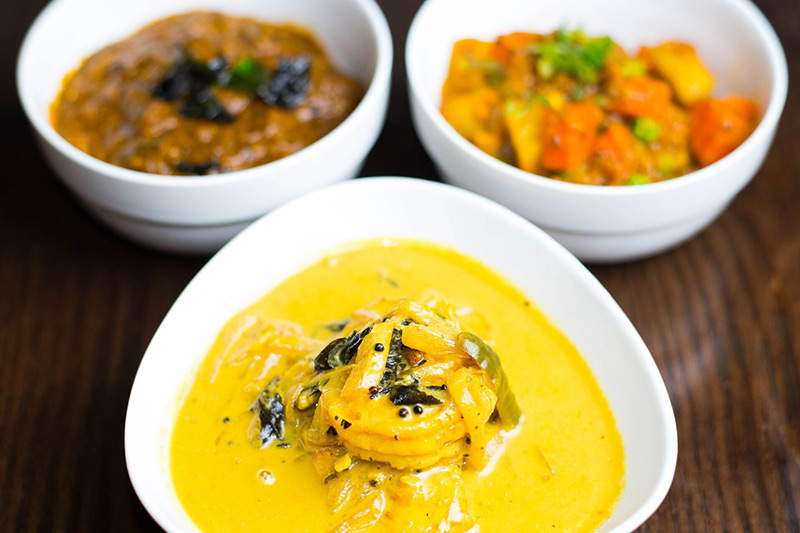 Kurry Qulture has been on our radar for quite some time. We were finally able to check them out this week, and we were not disappointed. We tried a wide variety of excellent Indian cuisine. Located on 30th Avenue, it used to be the cocktail bar Bourbon & Vine. I visited Bourbon & Vine a few times, but always noticed that there was a large dining room in the back that never seemed occupied. Kurry Qulture has remedied this. Over the past year, I've always meant to go inside and check them out. After sampling a great number of dishes and some cocktails, I will definitely be returning as soon as possible.
The restaurant is still split into two sections—the bar area, and the main dining room. If you are looking just for a drink, they have a very unique and delicious cocktail menu. We tried the Phone on the Range (Tequila, Mango, orange liqueur) and the Blurry S.O.S (bourbon, blackberry syrup, soda). Both were delicious and refreshing. The dining room is very spacious and has candles at every table. As the night went on, it definitely took on a more romantic vibe—a welcome change. We tried a few of the appetizers next. The vegetable fritters came with a nice tamarind spread and were very tasty and filling. The chicken Bukhni Kabab were two chicken patties with spinach and a green pineapple sauce. They were delicious. The most interesting appetizer was the Dahi Bhalla (lentil dumplings, yogurt, tamarind chutney). Served cold, they had a great combination of sweet and salty flavors. 
For the entrée samplings, we were served Kohlrabi Subzi (tomato curry with peas and carrots). It was great mixing that with the basmati rice. The Shrimp Moilee was out of this world. The two different types of naan were great for dipping in the different sauces and curries—especially the garlic naan. It might be the best I've ever had. The Langar Wali Dal (black and yellow chickpeas, red kidney beans) was very tasty, and I'm not necessarily a lentil fan. I loved every bit of it. By the end of the meal, I had all of the different dishes on my plate while mixing them with the rice and dipping the naan in the sauces. 
That still wasn't the end though! We were then given a bread pudding dessert as well as Galub Jamun (Indian donut holes). The bread pudding was amazing. It was a fried dough with a sweet and sugary topping. When I bit into it, it melted in my mouth. Crunchy and sweet. The Galub Jamun was in a sugary syrup that really took the sweetness to another level. The overall experience here was fantastic. The wait-staff included. I live close by to Kurry Qulture, so I will be returning quite often now. If you live in Astoria, or even not close by, you should definitely check it out. We left completely stuffed and satisfied with every single dish that was offered. A welcome surprise. 
Here is the new spring menu, and here is the wine and cocktails menu.
36-05 30th Ave, Astoria, NY 11103
(718) 674-1212
kurryqulture.com