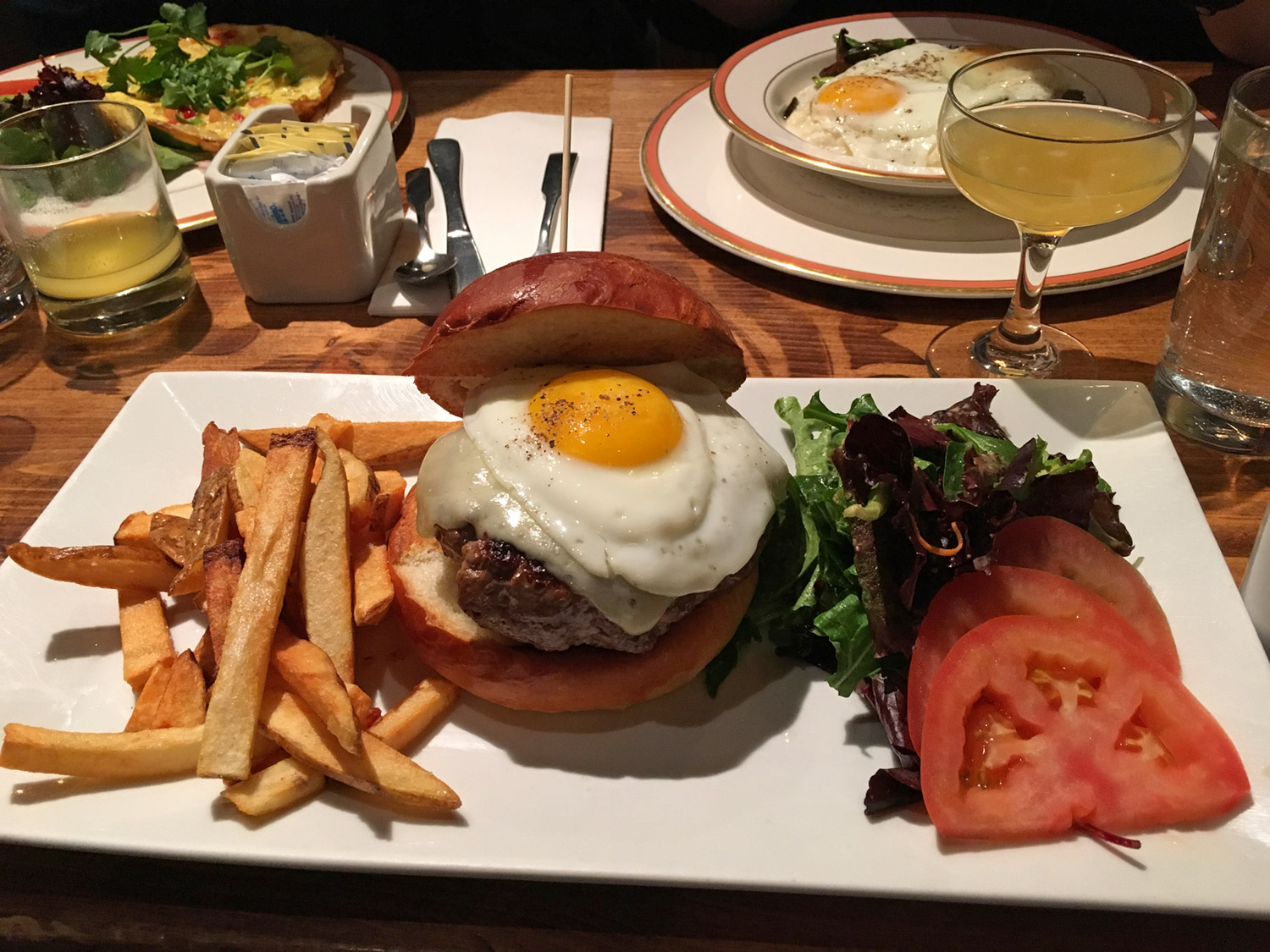 This weekend, we ventured to The Royal Underground on 30th Ave (between 36th and 37th St) which opened in the former William Hallet location back in November. We initially contacted the restaurant via Facebook to get the brunch menu and inquire about making a reservation. We were pleasantly surprised to receive an immediate, helpful response, and looked forward to our visit all week.
Upon arrival, we were warmly greeted by one of the owners, Jimmy, who gave us a choice of seating and happily told us about his involvement in opening this new restaurant. Making our way inside, we noticed ornamental lamps, an intricately detailed ceiling, royal blue accent walls, and a beautiful hand-painted mural in the back (there's also one in the bathroom). We were getting a French bistro-esque vibe, which is also reflected in some of the items on the menu.
We were soon introduced to another owner, Gary. Both Jimmy and Gary are from Astoria and have previous ties to other Astoria restaurants. Jimmy explained that this time around, his goal was to open a restaurant serving "Manhattan dishes with Astoria prices." Jimmy, a former fireman, says he feels at home in his local digs and treats his restaurant and customers like family, just as he did at his old fire station. Looking around the restaurant, you will find Jimmy introducing himself to every customer. He is just that friendly guy you want to pal around with.
We ordered brunch entrees ($17) which each included a choice of coffee/tea and juice/alcoholic beverage. We opted for a glass of pineapple juice, a traditional orange juice mimosa, and a pineapple juice mimosa. You could also choose a cranberry juice mimosa, a Bloody Mary, and a MAN-Mosa, which we learned is beer (instead of champagne) mixed in orange juice. We really enjoyed all of our food choices: Vegetable Frittata (mushrooms, onions, tomatoes, red bell peppers), Grits & Eggs (two fried eggs sunny side up, cheese grits, shitake mushrooms, asparagus), Old Fashioned French Toast (bread pudding, orange zest and bourbon whipped cream), and The Queen's Burger (beef short rib, aged white cheddar, fried egg, pomme frites). The frittata and burger were accompanied with a side salad topped with very tasty dressing. The Queen's Burger was a definite standout—really juicy and delicious. The sunny side up egg on top was a perfect addition, and we were grateful for Jimmy's advice: break the egg before taking a bite, to avoid making a mess. The grits of the Grits & Eggs were fluffy and different from southern style grits you may already be family with. Combined with the vegetables and dripping yolk from the egg, it was definitely an overall win for a brunch dish. Lastly, The French Toast was light, airy, flavorful and definitely one of the best tasting French Toasts we've ever had.
As we made our way through our tasty brunch, the place was getting more crowded, but it was still never too noisy, which was nice. We left feeling satisfied and not too overstuffed which goes to show the food was delicious without being too heavy! Before leaving, Jimmy showed us the dinner menu, pics of some of the dinner items, and their cocktail menu with creative drinks named after songs (Grounds for Divorce, Some Like It Hot), so needless to say, we can't wait to return for an evening visit sometime soon!
–Rachelle and Jamie