(From Blink Fitness)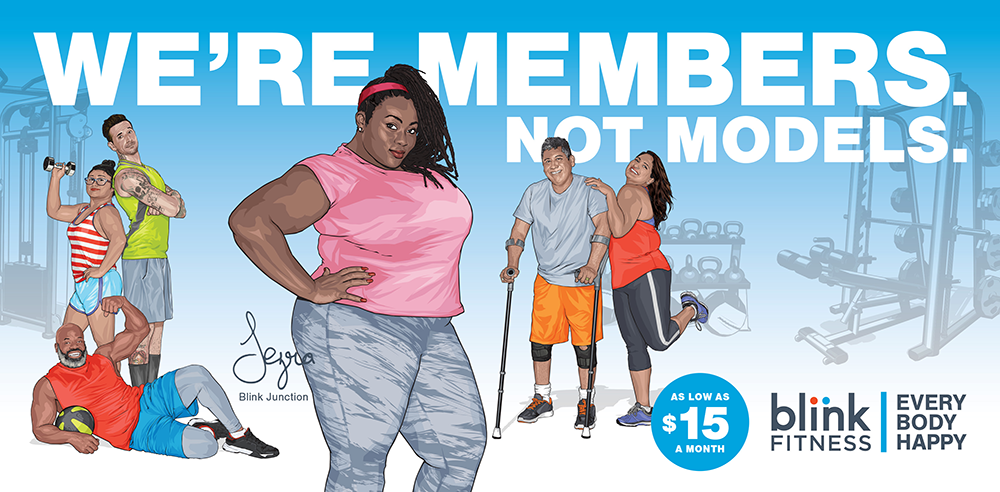 Blink Fitness, the premium-quality, value-based gym, is kicking off the New Year with the launch of its 2017 ad campaign featuring 16 of Blink's very own gym members—not models. While the rest of the fitness industry touts images of six-pack abs and lofty weight-loss goals, Blink is redefining aspiration by showcasing the real, diverse range of people who derive joy and confidence from exercise. From Celestino, who regained the ability to walk again at Blink, to Amy, a working mother of three, who maintains her health—and sanity—by making time for fitness, each and every member in the campaign exudes self-confidence with their own unique inspirations for feeling good and getting healthy.
One out of the 16 gym members was from the Queens area representing Blink Roosevelt!
The final members were selected following a brand-wide casting call via social media (a first for a gym) and an audition in front of a panel of influential "casting agents." The panel included body-positivity advocates and Blink members Dascha Polanco, known for her role as Dayanara Diaz on Orange is the New Black, former NFL punter Steve Weatherford, and Blink Fitness personal trainer Sabine Milien. To audition, the members shared their fitness journeys and explained why they believe feeling good is the new looking good.
The goal of the 2017 campaign is to challenge industry norms and expand on Blink's unique Mood Above Muscle™ philosophy, which celebrates the positive emotions you get from working out, not just the physical benefits. A survey commissioned by Blink Fitness and conducted online by Harris Poll last month showed the following sentiments, which illustrates that Blink is onto something greater.
• Roughly 8 out of 10 Americans (82%) say their relationship with their body could be improved
• Nearly two-thirds (64%) of respondents said they find it discouraging to work towards unrealistic body images they see in the media.
• Almost 9 in 10 Americans (89%) who currently work out at a gym feel more confident about themselves when they leave the gym than when they first walk in.
Check out a sneak peak video for the Blink casting call here!