(From Kurry Qulture)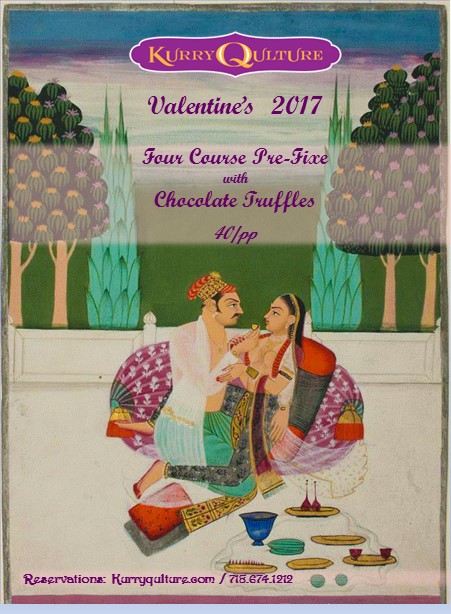 Kurry Qulture is offering a $40/pp four course Valentine pre-fixe complete with candlelight and chocolate truffles. The menu balances diner favorites, such as a "Home Style Chicken Curry", along with dishes featuring known aphrodisiacs, such as "Salmon Tikka" and "Masala Arvi", with taro root made tangy with dried mango powder.
At the bar, Bo will be mixing up a "Lover's Chocolate Martini" in addition to some of our potent favorites, including Thirstiest Avenue–with Anejo Tequila, Lillet Rose,and chocolate bitters.
Cuisine from the land of the Kama Sutra knows how to pleasure the mind and soul through all five senses, making Kurry Qulture a Valentine's dining destination!
Reservations are available online at kurryqulture.com or by calling 718-672-1212.
ABOUT KURRY QULTURE
Located on the bustling 30th Avenue in Astoria, Queens, Kurry Qulture elevates the Indian dining experience with surprising-creative cuisine and attentive service in a chic yet casual ambience. Owner, Sonny Solomon, brings over 15 years of experience at some of NYC's most notable fine dining establishments. Since opening in November, 2015, Kurry Qulture has won the title of "Best Indian Restaurant in Queens: 2017" from Best of Boro and is noted in the 2017 Michelin Guide. In addition, Kurry Qulture has been featured in numerous publications including Eater NY, Boro Magazine, Epoch Times, AM NY and by several local foodie bloggers. Five star online reviews rave about the cuisine and attentive commitment to the experience of every guest.