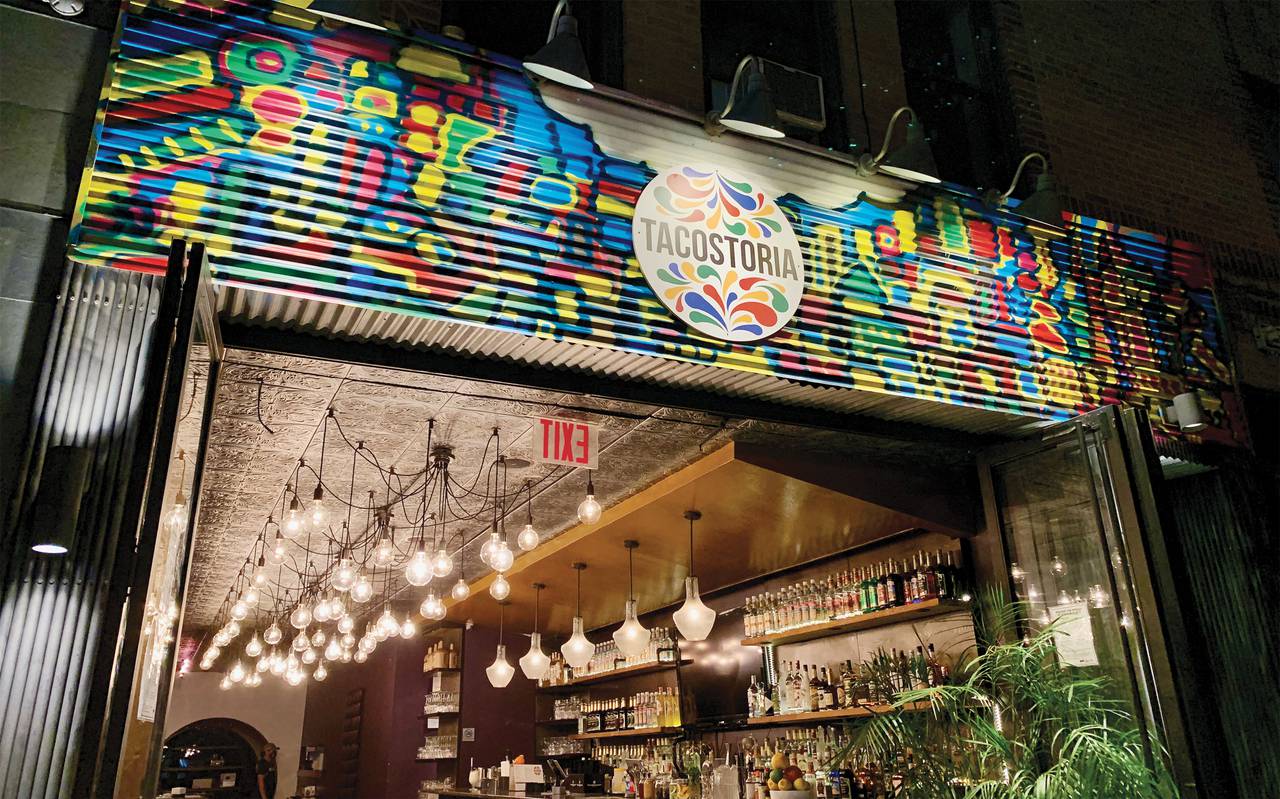 Tacostoria Opens in Astoria Queens on 30th Avenue's Restaurant Row Serving Fusion-Inspired Tacos, Cocktails and More
TACOSTORIA, ASTORIA'S NEW URBAN EATERY AND NEIGHBORHOOD BAR, TAKES TACOS TO THE NEXT LEVEL WITH A FUSION-INSPIRED MENU OF AUTHENTIC HOMEMADE RECIPES, CUSTOM-BLENDED FROZEN DRINKS, FLAVORED SANGRIAS AND TOP NOTCH CRAFT COCKTAILS, NOW OPEN ON 30TH AVENUE'S RESTAURANT ROW.
Tacostoria, Astoria's newest restaurant/bar on 30th Avenue (in the former Slush Astoria space, between 36th and 37th St), showcases a fusion-inspired menu of gourmet tacos, blended burritos, tasty appetizers, custom-blended frozen drinks, flavored sangrias and top notch crafted cocktails.
Co-owners, Eric and Olga Scheidemann, a married couple from Whitestone, Queens wanted to "feed the tribe" of Astorians and Queens natives with a neighborly place to grab a fresh, homemade bite to eat and a well-made cocktail.
"Tacostoria is an evolution of our concept, first starting with Slush this past summer, now offering a full menu of homemade, authentic, delicious food," said Olga Scheidemann. "And, who doesn't love tacos?!?!"
Tacostoria challenges the idea of what a taco can be, showcasing a diversity of flavors in its menu of lovingly-prepared homemade recipes, fresh ingredients and worldly influences. At Tacostoria, there's something for everyone!
Some highlights of Tacostoria's introductory taco menu are: Korean Brisket Taco with asian slaw and avocado wasabi;  Hawaiian Pork Taco with roasted pineapple salsa; Bang Bang Shrimp Taco with asian slaw and sriracha aioli; and a vegetarian Spicy Crispy Cauliflower Taco with cabbage slaw, pickled onion and avocado salsa.
Beyond serving great tacos, the menu also features what they call "blended burritos," which are specially prepared to deliver the perfect harmony of ingredient and flavors in every bite, featuring: Beef Barbacoa Burrito with chihuahua cheese, greens and avocado salsa and Achiote Chicken Burrito with chihuahua cheese, roasted corn, poblano peppers and guajillo cream.
Featured appetizers include two showstoppers: Not Nachos, a unique take on a classic, using roasted potatoes instead of corn chips, topped with jalapeno queso, pineapple pico, pickled jalapenos, sour cream, guacamole and refried beans and the Queso 'n' Veggie Chili Hookup, a delightful combination of silky queso topped with veggie chili and fire roasted corn and served with corn chips.
"We came up with our slogan 'Tacos for the People' to reflect not only the diversity of our menu but to celebrate the diversity of New York City and its people. Our entire staff lives and works in Queens; some are native New Yorkers and others moved here to follow their big New York dream," said Scheidemann. "Our menu reflects our diversity, with every dish and drink inspired by our professional and personal experiences."
From the wildly-popular slushees from Slush, the Scheidemann's summer popup shop, Tacostoria continues to feature custom-made frozen drinks, each perfectly blended using freshly shaved ice to make every sip as smooth as silk.
"Every frozen drink is custom made and blended to perfection for each customer, with our fresh fruit purees, it's not made from a sugary mix. One sip and you'll taste the difference," said Scheidemann.
In addition to the frozen margarita and pina colada classics, the frozen drink menu includes: Coco Bango made from banana, mango and coconut rum; Rum Berry Sour made from raspberry, lemonade and rum; and Banana Split made from dark creme de cacao, ice cream, banana and strawberry. Customers can even customize their own frozen drink by choosing their favorite alcohol (or none at all) and mixing it with the fresh fruit puree of their choice: banana, mango, passion fruit, raspberry, strawberry and more.
Tacostoria's themes of diversity and worldly influences shine behind its craft bar, featuring hand-crafted cocktails made from scratch and tailored to each customer's preference. Featured is a thoughtfully-prepared collection of seasonal-inspired cocktails, including: Spicy Margarita made with tequila, orange liquor, lime juice, agave and jalapeno; Pumpkin-tini made with pumpkin vodka, pumpkin spiced liquor and baileys; Butterscotch Old Fashioned made with bourbon and butterscotch liquor; Old Cuban made with rum, lime juice, demerara syrup, sparkling wine, angostura and mint leaves; New York Sour made with rye whiskey, lemon juice, orange juice, simple syrup, red wine float and egg whites; and No Problemo made with tequila reposado, liquor 43, lime juice, celery bitters and egg whites.
To complement the urban vibe of the restaurant's space, the Scheidemann's commissioned visual artist Joseph Meloy (IG: @josephmeloy and www.josephmeloy.com) to conceptualize and paint a mural for the restaurant's facade. Born and raised in New York City, Meloy describes his art as "Vandal Expressionism," a particular brand of post-graffiti abstraction with draws heavily from AbEx, art brut, cave painting and hieroglyphics. Meloy will create additional murals for the restaurant's interior over the next months.
Tacostoria is located in the same storefront where the Scheidemann's opened their Slush pop-up shop this past summer, at 36-05 30th Ave. Tacostoria's hours of operation are 5pm to midnight every day. Coming soon, brunch and delivery menus will be added, with more details forthcoming over the upcoming weeks.
About Tacostoria:
Tacostoria, located on Astoria's famous 30th Avenue, is a neighborhood eatery and bar serving up fusion-inspired tacos, blended burritos, unique apps, custom-made frozen drinks, flavored sangrias and top notch craft cocktails. Using fresh ingredients and homemade recipes, including vegan tortillas made by hand on premises each day, Tacostoria's food and cocktail menus showcase a diversity of bold flavors and worldly tastes, a reflection of the spirit of NYC and its people. Tacos for the People!
Web Site:
https://www.tacostoria.com
Social Media
Instagram: tacostorianyc
Facebook: http://www.facebook.com/tacostoria
Twitter: @tacostoria