[From Kurry Qulture]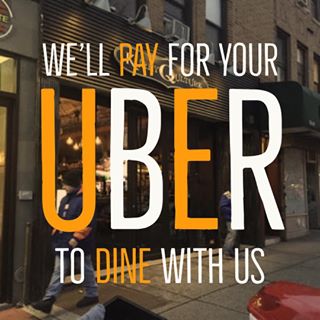 UBER AND LYFT RIDE CREDIT
Due to the 30th Ave subway station overhaul, which will last for the next several months, starting today Kurry Qulture will pay a customer's Uber or Lyft ride when they dine there. All they have to do is show proof of their ride and the restaurant will credit their check up to $10. Some conditions apply: one credit of up to $10 can be applied per table, offer cannot be applied to separate guest checks, customer must show proof of ride in the smartphone app, not applicable for bar-only, delivery or takeout customers, Uber or Lyft driver's tip will not be reimbursed.
WINTER 2018 MENU
Kurry Qulture, Michelin Guide reviewed, top-rated and highly recommended restaurant and cocktail bar, is setting the culinary bar even higher with its cutting-edge, modern Indian cuisine with its Winter 2018 menu. "This winter, Kurry Qulture invites you to indulge in classic, soul-nurturing Indian dishes with a modern fusion and flair," said owner Sonny Solomon.
New on the Winter 2018 menu is a festive celebration of homestyle recipes of fresh ingredients conceptualized by Chef Binder, Executive Chef at Kurry Qulture. "Kurry Qulture's Winter 2018 menu features 12 appetizers, 25 entrées and several variations of naan, chutneys and rice side dishes. There is something for everyone, even if you've never tried Indian food before," said Chef Binder.
Some new dishes include AMRITSARI FISH (tilapia fillets, carom seeds, chickpea flour), Teekhn Murgh (jamaican peppers, black and red pepper), MURGH METHI MALAI (fenugreek, onion, tomatoes) and SALMON KALVAAN (tandoor grilled, coconut tamarind sauce). For vegetarian and vegans, the new menu features ALOO GOBI (cauliflower, potatoes, turmeric), PHOOL MAKHANE KI SUBZI (lotus puffs, ricotta cheese, green peas, DAL MAKHANI (black lentils, red kidney beans).
"EAT INDIAN NOW" MOBILE APP IS AVAILABLE
Kurry Qulture is proud to provide its mobile app for Apple iPhone and Android smartphone users, making it super easy to get delivery from Seamless, Caviar and Uber Eats, and well as receive exclusive promotional offers as special thank you for using the app. To download the app, go to kurryqulture.com/app.
HOURS AND RESERVATIONS
Kurry Qulture is open for dinner seven days a week from 5pm and weekend brunch on Saturday and Sunday from noon to 3pm. Reservations are accepted through OpenTable.com, by calling Kurry Qulture at 718.674.1212 or via email at reservations@kurryqulture.com
ABOUT KURRY QULTURE
Kurry Qulture is New York City's first Indian restaurant to feature a seasonal menu. Located on the bustling 30th Avenue in Astoria, Queens, Kurry Qulture elevates the Indian dining experience with surprising-creative cuisine and attentive service in a chic yet casual ambience. Owner, Sonny Solomon, brings over 17 years of experience at some of New York City's most notable fine dining establishments.
Most proudly, Kurry Qulture has received these highly sought after accolades: OpenTable's Diner's Choice Award, "Best of the Boro" Award in the Queens County Indian Food category and featured in the 2017 and 2018 editions of the Michelin Guide. Five star online reviews on Yelp, OpenTable, Google and more rave about the cuisine, cocktails and exemplary style of service.
Kurry Qulture
36-05 30th Avenue, Astoria, NY 11103
718.674.1212
contact@kurryqulture.com
www.kurryqulture.com