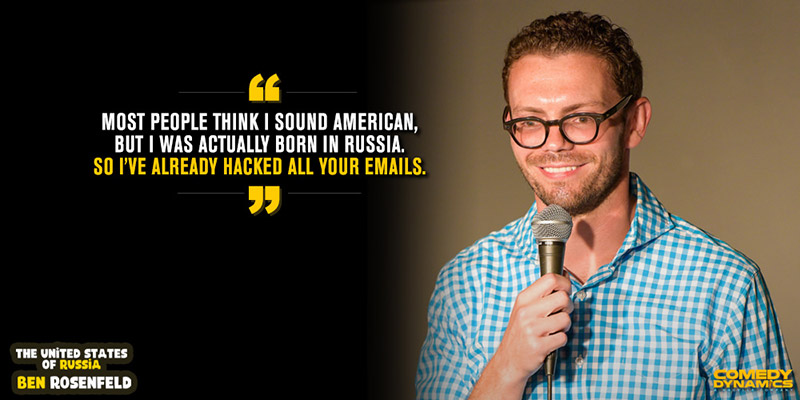 COMEDY DYNAMICS TO RELEASE THE UNITED STATES OF RUSSIA, BEN ROSENFELD'S NEW COMEDY ALBUM ON JANUARY 19, 2018 
"A year after the inauguration, The United States of Russia is hysterical!"
LOS ANGELES, CA – Comedy Dynamics announced today it will release Ben Rosenfeld's third comedy album The United States of Russia on all digital audio retailers on January 19, 2018.
Almost banned on Russian iTunes, Ben Rosenfeld's album The United States of Russia is a hysterical look at life from a Russian born, American raised comedian. In his sarcastic and original style, Ben discusses his immigrant parents and outsider childhood, millennials, terrorism, the current political climate, and adjusting to life as a newlywed. 
Comedy Dynamics, a Nacelle company, is one of the largest independent comedy production and distribution companies, producing Kevin Hart's Guide to Black History, Animal Planet's Animal Nation with Anthony Anderson, the new scripted comedy on Hulu, There's… Johnny!, History's Join Or Die with Craig Ferguson, MTV2's Wild 'N On Tour, and Hulu's Coming To The Stage. The company has worked with a wide range of established and emerging comedic talent including Kevin Hart, Aziz Ansari, Jim Gaffigan, Katt Williams and many more. In total, nine of Comedy Dynamics' albums have been Grammy-nominated, with one win.
4 Soundcloud tracks:
1. The United States of Russia
2. Teen Runaways
3. My Engagement Mixup
4. Third World Happiness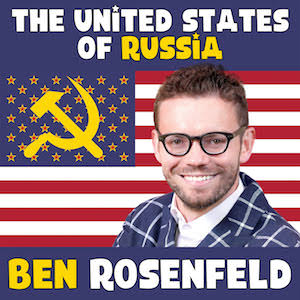 About Ben: Ben Rosenfeld creates smarter comedy for smarter people. Ben's comedy blends his family's experience as Russian Jewish immigrants in America with his philosophical beliefs, political observations and unique characters. Ben has appeared on FOX's Laughs, CBS This Morning, National Geographic's Brain Games, Travel Channel's Mysteries at the Museum, NPR and been featured as TimeOut New York's Joke of the Week. He has twice headlined at Caroline's on Broadway, hosted at the Lincoln Center and performs nightly in New York City.  Ben's three comedy albums, Neuro Comedy, The Russian Optimist and The United States of Russia are available on iTunes and all other digital retailers. Ben also created the illustrated coffee table book, Russian Optimism: Dark Nursery Rhymes To Cheer You Right Up, an Amazon Top 5 Best Seller in Humor.
Ben's Social Media Links: Twitter | Facebook | YouTube | Official Website