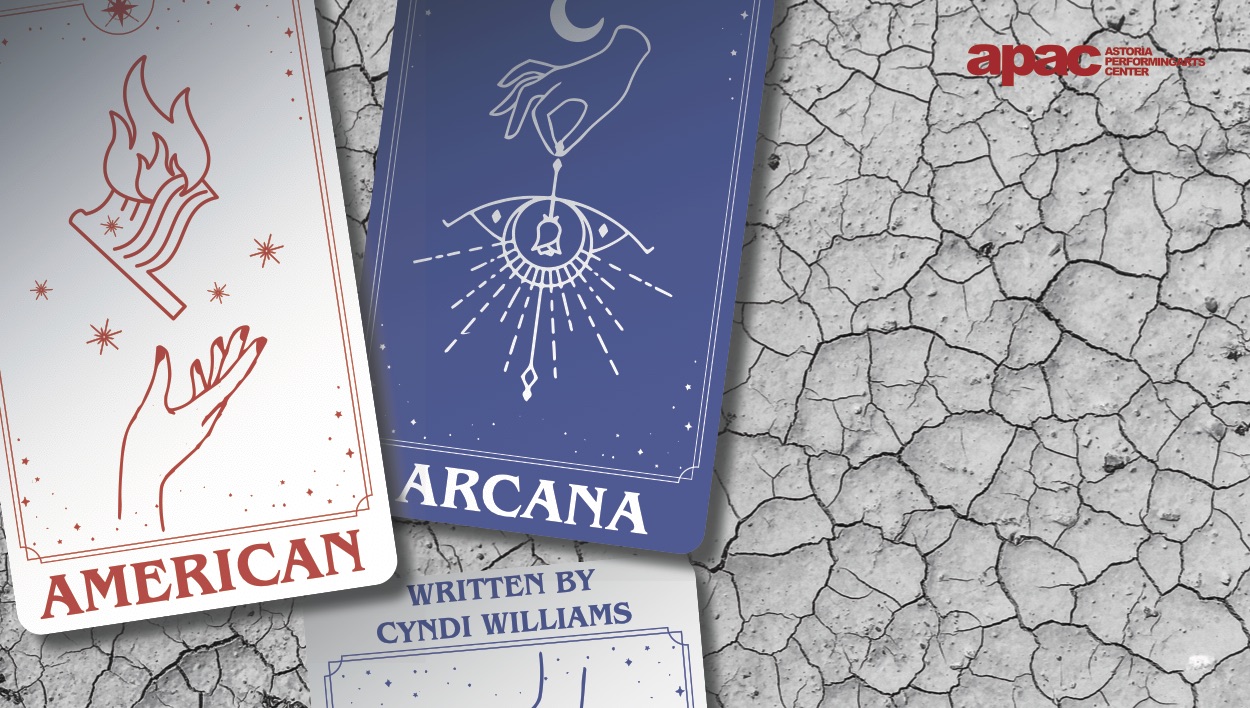 [From Astoria Performing Arts Center]
Astoria Performing Arts Center
in association with Theatre East
presents
AMERICAN ARCANA
An apocalyptic comedy by Cyndi Williams
Astoria Performing Arts Center (APAC, Dev Bondarin, Artistic Director), in association with Theatre East (Judson Jones, Artistic Director) will present American Arcana, an apocalyptic comedy by award-winning Austin, Texas-based playwright Cyndi Williams featuring both pre-recorded and live performances as a benefit for APAC on Thursday October 22nd and Friday October 23rd at 8:00pm on FiveOhm TV. Featuring over a dozen actors recorded and performing from across the country, this timely tale is both a reflection of our current times and a clarion for our future.
Crumbling infrastructure, poison water, distant gunfire, political ads. What does the future hold, and who will be there to shape it? From award-winning Austin-based playwright Cyndi Williams comes a timely epic of survival and the fight for a better tomorrow. October 22nd and 23rd ONLY at 8:00pm. Tickets at www.apacny.org or fiveohm.tv
Featuring: Joanna Carpenter, Arlene Chico-Lugo, Christine Donnelly, Caitlin Duffy, Ian Campbell Dunn, Tom Green, Natasha Hakata, John C. Hume, Brandon Jones, Brynne McNamimie, Peter Romano, Mahima Saigal.
Production Team includes Steven Brenman, Margaret Baughman, Derrick Byars, Matthew Dunivan, Caroline Eng, Rodrigo Muñoz, Zack Murphy.
Cyndi Williams is an Austin-based writer and actor. Her plays include Roaring (Austin Playhouse 2013-2014 Mainstage Season), Dug Up (David M. Cohen Award for Best Original Script, Austin Critics' Table), Where Are They Now? (Best Drama, Austin Critic's Table), Fish (Top Ten Plays, Dallas Morning News), A Name for a Ghost to Mutter (Live Oak Harvest Festival Best Original Script, Larry L. King Award Best Texas Play)  and Cars and Bars (Best Original Play, Austin Circle of Theatres).  She collaborated on Salvage Vanguard Theatre's site-specific project In This House (Everything is You), and wrote the lyrics for their play Denim Doves.  With Refraction Arts Project, she collaborated on The Assumption, Orange, Up In the Old Hotel, and The Metamorphosis. Her screenplay for Bright Shining City, Deeper and Deeper, was nominated for Best Original Script in the World Music and Independent Film Festival.   For ADV, she wrote American versions of anime scripts including Wedding Peach and Gatchaman. She is an Acting Company Member at Austin Playhouse.  Film work includes Room (Independent Spirit nomination for Best Lead Actress, the Women Film Critics Circle's Karen Morley Award), The Leftovers, Computer Chess, and The Preacher's Daughter. Cyndi is a Founding Core Member of Script Works. Her most recent play, based on her Facebook writings, is currently being workshopped and featured in podcasts by Austin Playhouse.
Astoria Performing Arts Center (APAC), is a not-for-profit organization that was founded in 2001 to bring high quality theater to Astoria, Queens and New York City, and to support local youth and senior citizens. On its mainstage, APAC produces revivals and premieres of plays and musicals, and also develops new works through readings and workshops. To date, APAC has received 67 New York Innovative Theatre Award nominations and 17 wins (including Outstanding Musical Production for Merrily We Roll Along, Allegro, Children of Eden, and Raisin), as well as an Off-Off Broadway Theatre Review Award for Outstanding Production of a Musical (Is There Life After High School?) and two AUDELCO "Viv" Awards (including one for Outstanding Revival of a Musical for Caroline, or Change.) APAC was also the recipient of the 2012 Caffe Cino Fellowship Award from the New York Innovative Theater Award Foundation. APAC offers free annual community programs, including a summer performance camp for children ages 8-13, an afterschool playwriting program, and performance programs for Queens residents ages 60 and over. These programs deepen ties with the community, and develop new audiences for theater. Diverse programming and consistent quality attracts a loyal and growing audience that reflects the diversity of Western Queens and draws from the other boroughs and beyond. www.apacny.org / @APACNY / @apacgram