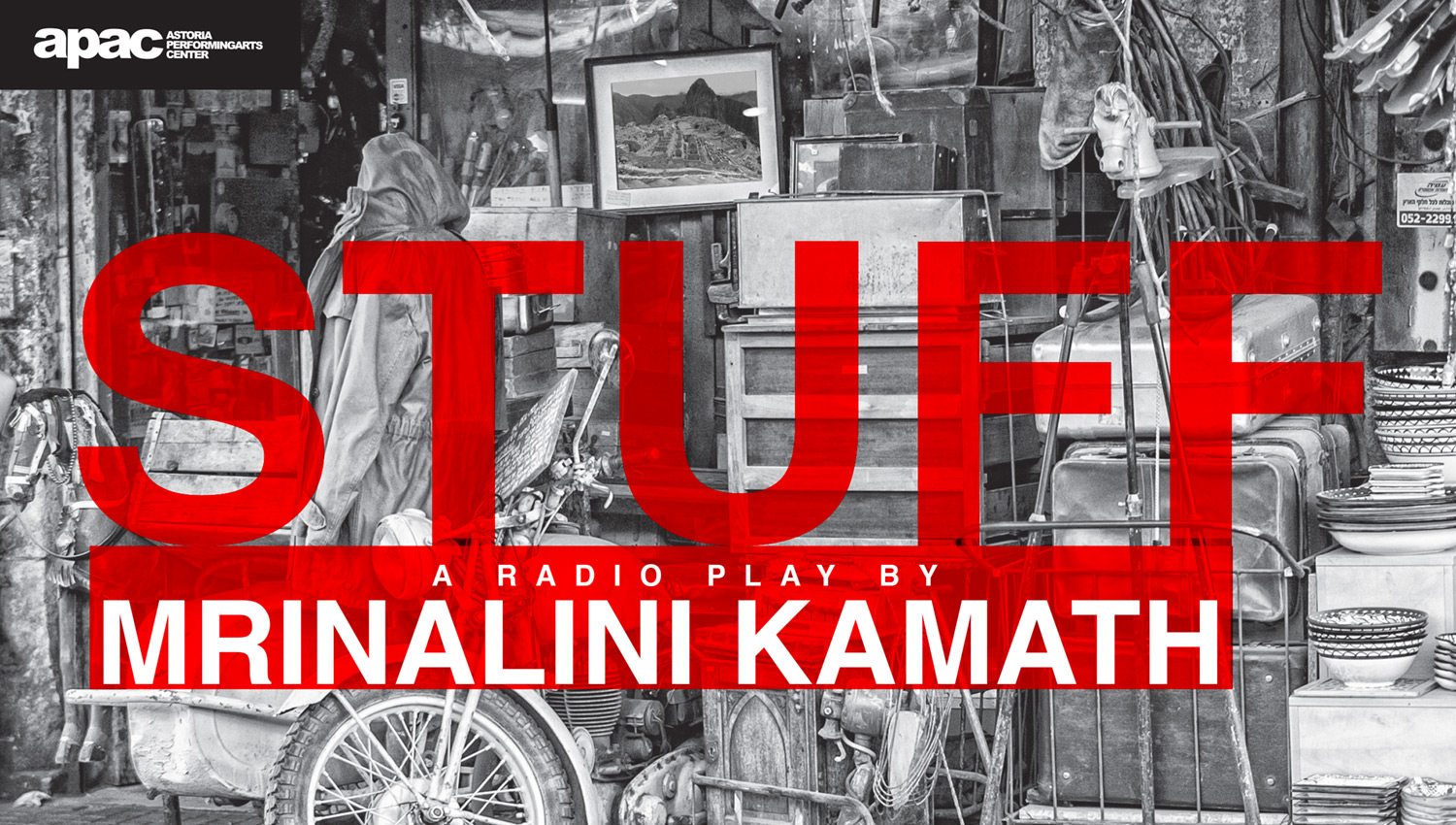 Astoria Performing Arts Center
presents
Stuff
a radio play
by Mrinalini Kamath
Astoria Performing Arts Center presents the world premiere of Stuff, a radio play by Mrinalini Kamath. Inspired by the 2015 New York Times article "The Lonely Death of George Bell," Stuff tells the story of lives that intersect when a man dies alone in his cluttered apartment. Stuff is about living alone in modern times.
Stuff features Jen Anaya, Alan Ariano, Shabazz Green, Greg Horton, Jim Nugent, Shetal Shah, and David Shih, is directed by Dev Bondarin, with sound design by Caroline Eng and engineering by Jim Petty.
Stuff will be released in three episodes beginning Tuesday May 11th at 6pm, with each subsequent episode released on Tuesdays in May. The play will be available on APAC's Five Ohm TV Channel (fiveohm.tv) and on Spotify and other podcast platforms. Listening is free of charge with donations suggested to be made to Astoria Performing Arts Center. More information can be found at www.apacny.org.
Mrinalini Kamath (Playwright) is a Queens-based playwright who attended Johns Hopkins University and the New School for Drama. She was a 2019 recipient of a Queens Council on the Arts New Works Grant for her play Term Limits and was a 2018 Ma-Yi/UWashington Mellon Creative Initiative fellow. Many of her short plays are included in Smith and Kraus anthologies, and she is a member of the Ma-Yi Writers Lab and the PlayGround Experiment, and is an alumna of EST's Youngblood and the Mission to (dit)Mars Propulsion Lab. For more info about Mrinalini: mkwriter.com
Astoria Performing Arts Center, Inc. (APAC) is an award-winning non-profit theater company dedicated to engaging the residents of Astoria, Long Island City, and greater Queens in contemporary social and cultural issues through live performance and arts education. Established in 2001, APAC has produced a diverse mix of new plays and reimagined musicals and developed dozens of new works. APAC also provides a robust array of community and arts education programs that offer writing and performing opportunities to students, seniors, and residents of all ages with and without disabilities. Recent productions include the New York premieres of Marguerite by Michael Cooper and Anton Dudley featuring Tony Award-winner Cady Huffman and Jump by Charly Evon Simpson directed by Arpita Mukherjee.