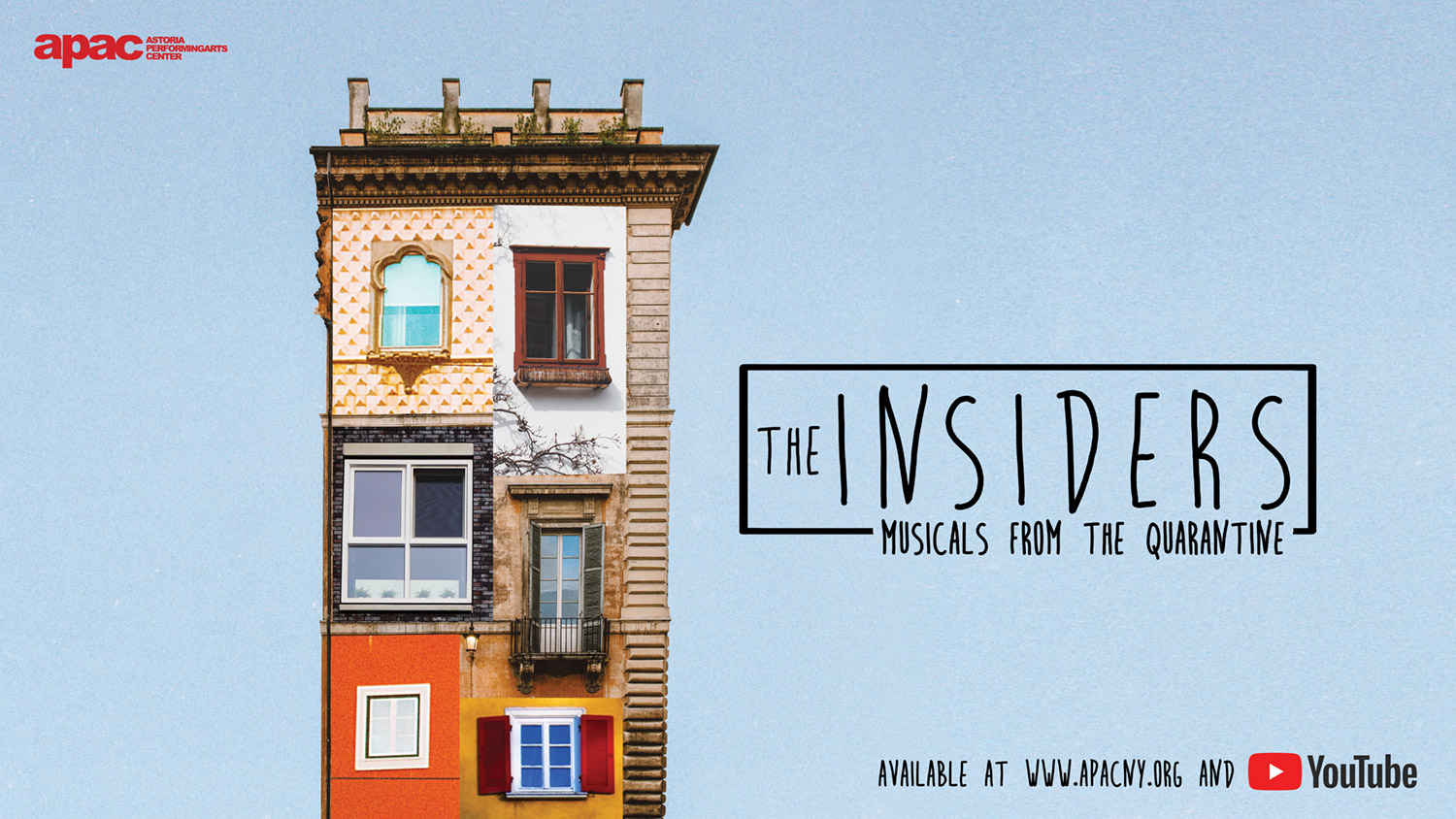 [From Astoria Performing Arts Center]
Astoria Performing Arts Center
in association with Teresa Lotz
presents
The Insiders
Musicals from the Quarantine
Six original musicals responding to the COVID-19 crisis.
Astoria Performing Arts Center (Dev Bondarin, Artistic Director), in association with Teresa Lotz, presents six new musical shorts written in response to the COVID-19 crisis. Featuring the work of fifteen writers, five directors, and sixteen actors, the contributing artists joined the project in the early days of the crisis in the spirit of developing new work without being in the same room to do so.
Quarantine. Crisis. Connection. Hope. There are many stories to tell right now and with The Insiders, these writers have created six in response to the current situation. From the expressionistic to the satirical, to the reality of family members trying to communicate, each film tells a story based in the here and now while we experience this unprecedented moment of pain in the world together.
The six short musicals will launch online starting May 22nd. Viewing will be free of charge, but there is a suggested donation of $10 which will benefit Astoria Performing Arts Center and Indie Theater Fund (www.indietheaterfund.org/donate). More info can be found at www.apacny.org.
The Insiders is written by Krista Knight, Derek Hassler & Ryan Kerr, Rachel Kunstadt, Briana Harris & Teresa Lotz, Charles Inniss & Christopher Inniss, Marcus Scott, Blake Allen & Marc Chan, Annette Storckman, Naomi Matlow & Andi Lee Carter, Claire Tran & Blake Allen. The Insiders is directed by Dev Bondarin, Emily Brown, Daniella Caggiano, Kristin Rose Kelly, Justin Schwartz. The Artistic Producer is Teresa Lotz and the cast includes Dana Aber, Bailey Carlson, Ariel Leigh Cohen, Leana Rae Concepcion, Kristina Dizon, Ellis Gage, Staci Jo Johnson, Bee Michael, Michael Orlandi, Jason Pintar, Erin Solér, William Spinnato, Sara States, Tais Szilagi, Jeff Williams, Ariel Seidman-Wright.

—-
Astoria Performing Arts Center, Inc. (APAC), is a not-for-profit organization that was founded in 2001 to bring high quality theater to Astoria, Queens and New York City, and to support local youth and senior citizens. On its mainstage, APAC produces revivals and premieres of plays and musicals, and also develops new works through readings and workshops. To date, APAC has received 67 New York Innovative Theatre Award nominations and 17 wins (including Outstanding Musical Production for Merrily We Roll Along, Allegro, Children of Eden, and Raisin), as well as an Off-Off Broadway Theatre Review Award for Outstanding Production of a Musical (Is There Life After High School?) and two AUDELCO "Viv" Awards (including one for Outstanding Revival of a Musical for Caroline, or Change.) APAC was also the recipient of the 2012 Caffe Cino Fellowship Award from the New York Innovative Theater Award Foundation. APAC offers free annual community programs, including a summer performance camp for children ages 8-13, an afterschool playwriting program, and performance programs for Queens residents ages 60 and over. These programs deepen ties with the community, and develop new audiences for theater. Diverse programming and consistent quality attracts a loyal and growing audience that reflects the diversity of Western Queens and draws from the other boroughs and beyond. www.apacny.org / @APACNY / @apacgram
Teresa Lotz (she/they) is an award-winning playwright and composer-lyricist. Her work includes She Calls Me Firefly (2019 New York Innovative Theater Award Winner), Akira & The Merpeople with Claire Tran (Polyphone Festival), Red Emma & the Mad Monk (NY Times Critic's Pick, 6 NYIT Nominations, Ars Nova ANT Fest) created by Alexis Roblan and Katie Lindsay, ThreeTimesFast with Naomi Matlow (Florida Festival of New Musicals, O'Neill Theater Festival Semi-Finalist, New York Film Academy), The Awakening with Sarah Rebell (O'Neill Theater Festival Semi-Finalist, MTF Developmental Series at Playwright's Horizons). Teresa was a 2020 Jonathan Larson Grant finalist and is an alumni of New Perspectives Theater Company's Women's Work Lab. Dramatist's Guild. ASCAP. Music Composition, BM, Bowling Green State University. Musical Theatre Writing, MFA, New York University. TeresaLotz.com