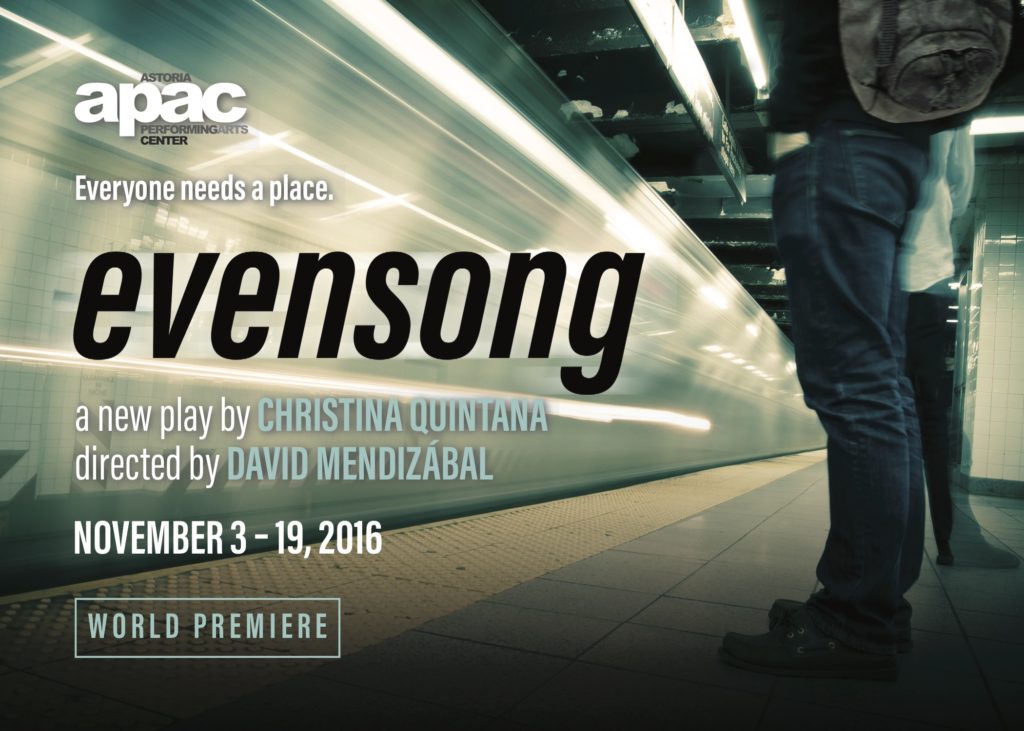 (From Astoria Performing Arts Center)
Astoria Performing Arts Center (APAC) kicks off its 16th season with  the world premiere of Evensong. Evensong traces the story of Teofilo "Teo" Aguilar (played by Daniel Prado), a young Mexican-American gay man and member of New York City's working homeless population. A Texas transplant with big dreams, Teo works as a bank teller, goes on mediocre online dates, and searches for stability and human connection while navigating the tangled shelter system. Using structural elements of choral music and conventions of theatrical magic, Evensong is a tale of survival, growth, and faith in moments of loneliness and solitude. A shorter version of Evensong was featured in INTAR's American Nightcap Series in 2014. The full-length play was featured on HowlRound and the Latina/o Theatre Commons' Presente: A Roll Call of New Latina/o Plays last summer. The 90-minute production at Astoria Performing Arts Center marks the play's world premiere.
—–
Astoria Performing Arts Center presents EVENSONG – A New Play
Written by Christina Quintana
Directed by David Mendizábal
November 3 – 19, 2016 (Opening Night: Saturday, November 5th at 8 p.m.)
Thursdays and Fridays at 8 p.m. | Saturdays at 2 p.m. and 8 p.m.
Evensong runs November 3 – 19 at Good Shepherd United Methodist Church
30-44 Crescent St (at 30th Road)
Astoria, NY 11102
Tickets on sale now: $18 for adults ($12 for students and senior citizens) tickets may also be purchased in person at the box office ½ hour prior to each performance.