[From Queensboro Dance Festival]
2022 Queensboro Dance Festival tour starts Saturday, appearances at Queens Night Market and Queens Pride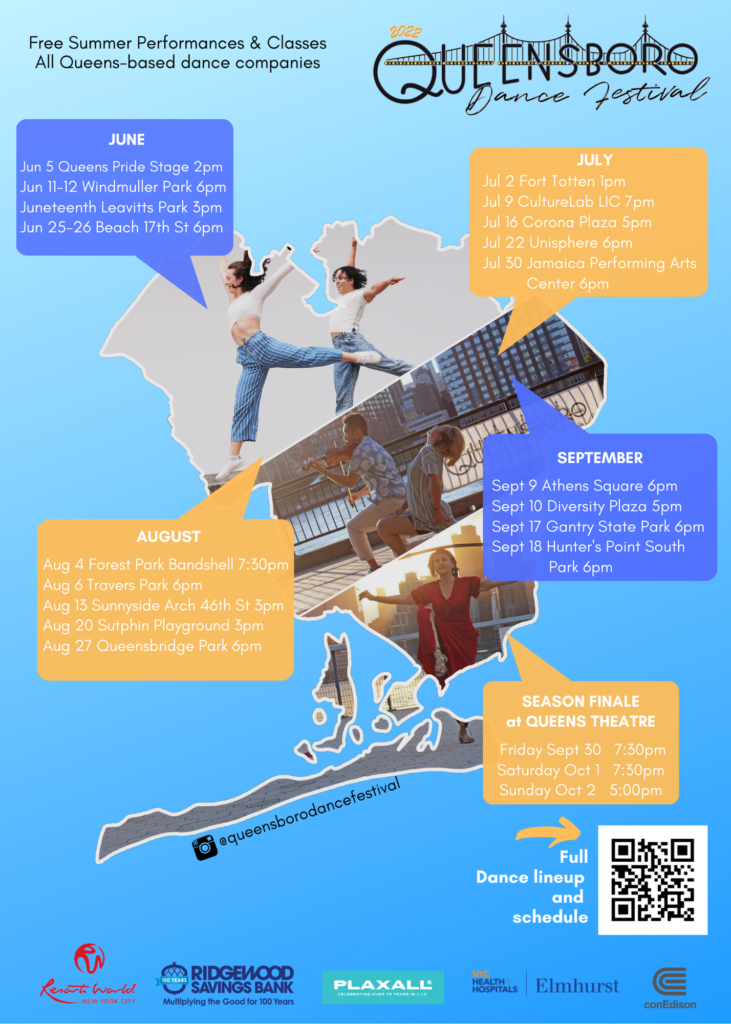 June 1, 2022, Queens NYC — The Queensboro Dance Festival (QDF) tour kicks off this Saturday, June 4th with preview performances in partnership with Queens Rising at the Queens Night Market (New York Hall of Science, Flushing Meadows Corona Park) on Saturday, and an appearance on the Queens Pride mainstage on Sunday. The QDF will present a total of 26 diverse Queens-based dance companies throughout the summer, with over 30 free outdoor performances and classes across Queens. All event lineup information is listed at www.queensborodancefestival.com or bit.ly/2022QDFtour.
As a platform to represent the breadth of dance cultures in Queens, some of the genres in the Queensboro Dance Festival this year includes Chutney, tap, Hawaiian, West African, contemporary, Afro Latin, Turkish Gypsy, hip-hop, Kathak, ballroom, Colombian, Greek, ballet, and Filipino dances. Dance groups hail from neighborhoods spanning from South Ozone Park to Flushing, Long Island City to Jackson Heights.
"We are so excited to be live again," says Queensboro Dance Festival founder/Executive Director, Karesia Batan. "There is always something new for audiences to enjoy from the dance groups."
The Queensboro Dance Festival tour officially begins June 4th with a meet and greet party of the 125 dancers performing this summer before heading to preview performances by Hawaiian group Na Pua Mai Ka Lani Nuioka and FANIKE! African Dance Troupe at Queens Night Market. Sunday's appearance at Queens Pride will feature Chieh & Yoyo, Gotham Dance Theater, and Kofago Dance Ensemble. The tour then travels to Windmuller Park in Woodside June 11–12 at 6:00pm with full-length shows for the rest of their summer schedule. Touring 14 different Queens neighborhoods, free public performances and classes will be held outdoors in various Queens parks, plazas, and streets nearly every weekend through September. Audiences can see a different lineup of dances at each event, with a chance to see all 26 companies in one culminating weekend at Queens Theatre.  

2022 Queensboro Dance Festival companies:
Barbara Mahler's Dances
Belamovado
Chieh & Yoyo
chrisbelldances
Cole Collective
Drye|Marinaro Dance Company
FANIKE! African Dance Troupe
Flamenco Latino
Fruto Ancestral
Gotham Dance Theater
Greek American Folklore Society
Karla Florez School of Dance
Kinding Sindaw
Kofago Dance Ensemble
Manhatitlan Mexican Folkloric Dance Group
Na Pua Mai Ka Lani Nuioka
NK&D/a movement company
Noora Dance
Robert Mark Dance
RUDanceNY
sarAika movement collective
Sheep Meadow Dance Theatre
The Kingdom Dance Company
Umami Playground
Urvashie Kissoon
Wendy Kamal and the David Ali Dance Academy
Queensboro Dance Festival is also a lead community partner in two new major arts initiatives, Queens Rising and Turnout Queens. Queens Rising is a borough-wide celebration during the month of June to amplify events by Queens artists of all disciplines, connecting independent artists with larger institutions to raise the visibility of their work. Piloted by the Design Trust for Public Space and SITU, an architectural design practice, Turnout NYC is a community-driven initiative providing a flexible outdoor venue in each borough, to expand infrastructure to local artists and arts access to the public. In addition to their tour, Queensboro Dance Festival is a key curator in coordinating Turnout NYC artistic & performance programming in July and August at Travers Park in Jackson Heights.
"We're honored to be such an active part of the Queens arts landscape," says Batan. "By working with so many local artists and cultural organizations, we truly feel the sense of community here.  We feel the support and are thrilled to keep raising the visibility of Queens artists, especially dancers."
***
The Queensboro Dance Festival (501c3) was launched in 2014 with the mission to strengthen the dance community in Queens and inspire a greater appreciation for Queens dance. The festival tours Queens parks, plazas, streets, and more, providing free dance performances and classes by Queens-based professional dance groups of diverse cultures and techniques. The festival also offers career support to dancers such as free rehearsal space, professional development workshops, master classes, performance footage, Queens arts and cultural resources, and a community network of fellow Queens dance artists.